Sex shops and lap dancing clubs in England fall by third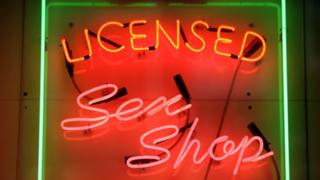 Lap dancing clubs, sex shops and sex cinemas numbers in England have fallen by a third in the past five years.
Responses to a Freedom of Information request show sex establishment licences issued by councils dropped from 386 in 2013 to 256 in 2018.
A rise in internet pornography and changes in social attitudes are blamed.
One sex shop owner claims the internet has "killed" his business while the Women's Equality Party said more needs to be done to change attitudes.
'Demand for products'
The BBC England Data Unit sent Freedom of Information requests to all local councils responsible for issuing sex establishment licences with 281 out of 327 responding to how many they had issued.
A pornographic magazine and DVD shop owner of 16 years has seen a decline in his business and said he serves no more than three or four customers "on a very good day".
Huddersfield-based Michael Bray, 70, said: "The internet has killed my business. A couple of years ago business was ok.
"Some men came into the shop in disguise because they didn't want to be recognised".
Mr Bray said social attitudes may be changing but believes there is still a demand for his products.
"Men come in because they don't want their wives to know what they are up to, or they don't want to view this material on their computers at home because they have children.
"But people will always want to watch porn."
The data provided by councils showed how many active licences had been issued on 1 January in each going back to 2011.
The figures reveal the number of sex establishment licences rose between 2011 and 2013 as lap dancing clubs had to apply for new licences after the introduction of the Police and Crime Act 2009. Previously, such clubs had been regulated under laws designed to control pubs and nightclubs.
Since 2013 the number of active licences has declined every year.
A survey conducted by YouGov in 2015 found 64% of people in Great Britain said strip clubs were a negative part of British culture.
Recent sex scandals involving the Hollywood film producer Harvey Weinstein and a business charity event hosted in London by the now closed President's Club has sparked a debate about wider sexual attitudes.
Catherine Mayer, co-founder of the Women's Equality Party, said: "Sexual entertainment businesses are built on the basis of exploiting young vulnerable women.
"Big business has become squeamish about taking clients to a strip club because they understand the potential reputational damage.
"But we've still got a lot of work to do to change the wider attitude that women are somehow a commodity. And councils should consider whether its appropriate to grant licences that give men a safe space to act out their power over women."
The data supplied by local authorities shows no major city in England has seen an increase in the number of sexual entertainment licences since 2013.
They also suggest the number of active licences has fallen by two-thirds in London.
The local authority area of Westminster which takes in Soho, an area synonymous with the British sex industry, has seen the biggest fall in the number of active licences, from 31 in 2013 to four at the beginning of 2018.