Street signs that make you look twice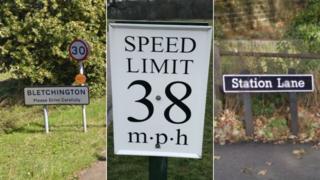 Signs are meant to make things clearer but there are some places in England where they warrant a double take. We visit the village with two names, the park with a strange speed limit and streets where the names are spelled out in white and black.

Not so fast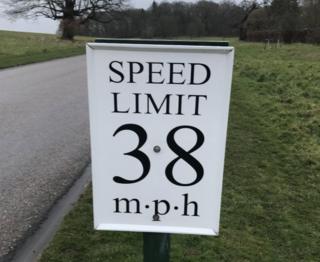 The painted wooden speed limit signs in Windsor Great Park are much more in keeping with the scenery than the red and white reflective ones seen on main roads.
But that's not the only difference - they read 38mph. Speed limits in England are usually a round number - so why not 40mph?
Well, it could be something to do with the conversion into kilometres per hour, said Nick Day, operations manager at the Crown Estates.
In 1972, a government White Paper on metrication advocated a gradual but not compulsory change from miles per hour to kilometres per hour.
"We think that the 38mph was introduced, as it could then be changed into 60km/h if required," said Mr Day.
Perhaps 38mph was chosen as it converts to 61km/h and could be rounded down if metrication was rolled out.
"That did not occur, but the 38mph remained," explained Mr Day.

The village with two names
There is a village in Oxfordshire which is signposted Bletchington at one side and Bletchingdon at the other.
Nick Woods said he spotted the difference while he was on the bus. "Ordnance survey maps spell 'don' but the local bus 'ton'," said the 64-year-old.
"I initially thought it was just a spelling error on the signpost but discovered there was more to it than that when talking to the local people - but no-one recalls the exact reason for the difference."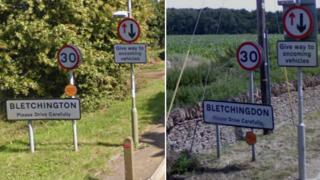 "It's easy to get confused," said Duncan Ledger from Bletchingdon Parish Council. "It all depends upon which way you enter the village. Some signs say Bletchingdon others say Bletchington.
"Don means on a hill, ton means village. It's been a centuries-old argument.
"As far as officialdom goes it is Bletchingdon. To most locals it is simply 'Bletch' which just means our village."
The village has also been known as Bletchingham and Bletchinghampton, according to the 1872 Annals of Bletchingdon, by William Wing.
He wrote of a spelling mistake which he called a "by no means unique instance of official carelessness in high quarters" which resulted in the village being registered as Bletchingdon in 1835.

White and black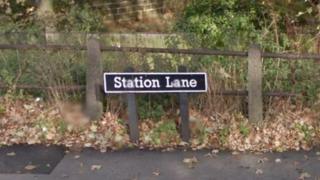 Most English street names are spelled out in black letters on a white background but BBC News Online reader Michael Antrobus noticed a difference on his travels.
"The street signs in Leeds are the usual black text on a white background that you see everywhere," he said.
"But I note when I travel through Wakefield the signs are white text on a black background.
"As far as I can see, it is consistently the Wakefield Council area including places such as Pontefract and parts of east Leeds. It has puzzled me for a while."
The change dates back to the mid 1980s, the council said.
"There are a mix of street nameplates across the Wakefield district but they all have to follow the British standard relating to letter size and clarity," a spokesman said.
"The black signs with white letters were introduced after a trial found them to be more durable."
---
This story was inspired by questions from readers of the BBC News website. Send us your questions and we could be in touch.