Vulnerable people 'trapped in homelessness' due to law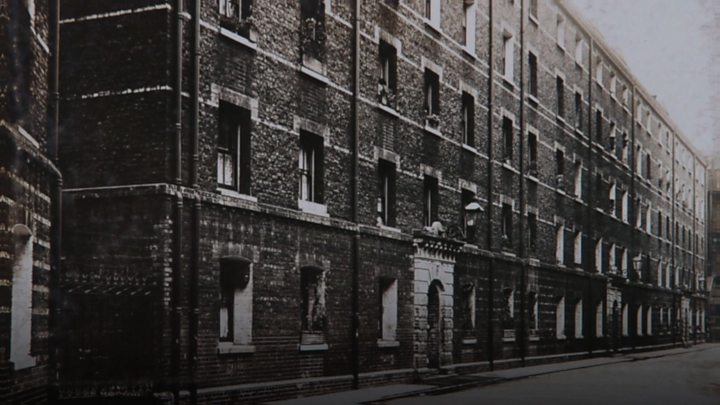 Vulnerable people are unable to access social housing, potentially trapping them "in a cycle of homelessness", due to a change in the law.
Under the Localism Act 2011 councils were granted greater powers to restrict access to social housing.
Since then 700,000 households have disappeared from waiting lists across England.
The Ministry of Housing, Communities and Local Government (HCLG) said: "Social housing is a priority for us."
Until the act became law in 2012, councils were required to consider all housing applications, with few powers to remove households from the list.
Now a local connection - often more than five years in a borough - is required by 35% of councils to access the social housing register.
Housing charity Crisis says the act is responsible for one in five homeless people being unable to move out of emergency housing such as hostels and B&Bs.
Chief executive Jon Sparkes said: "Restricted eligibility for social housing is trapping more and more people in a cycle of homelessness that they have no route out of.
"We are calling on the government to end these blanket bans that block people in need from registering for social housing."
Mo's story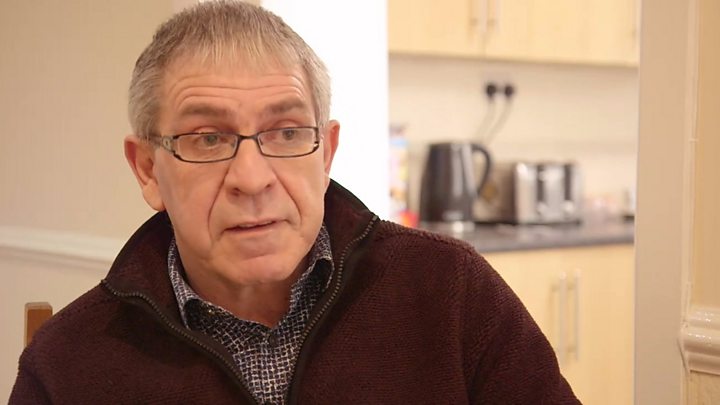 Being stuck out of social housing left Mo Sherman "very, very close to suicide".
When the 50-year-old former charity worker's marriage dissolved it set off a chain reaction that ended in homelessness.
He built up rent arrears while in a property found through Liverpool City Council, which led to his eviction.
"I wasn't told I was entitled to a majority of my rent being paid by the council," he said.
Liverpool City Council bars those with rent arrears from applying for social housing, unless they are able to establish a repayment scheme with the landlord.
"Because of rent arrears problems, I'm not part of society anymore," Mr Sherman said.
The council said Mr Sherman failed to show up to an appointment to discuss a repayment scheme and his housing situation. In response, Mr Sherman claims he has received no correspondence from the council.
A spokesman said: "These are not automatic exclusions and an applicant is given every opportunity to address these concerns before being refused and the right to appeal and reapply if they wish to do so.
"A person may be deemed ineligible to be rehoused, such as if they have a significant housing related debt and have refused to make any reasonable arrangements to pay it off."
Source: Ministry of Housing, Communities and Local Government.
Map by Daniel Wainwright and Tom Calver, built by Carto. If you can't see the map, please click here to open the same story on the BBC News website.
Households in poverty often fail to build a local connection because they are unable to remain in one area long enough, according to research by the Joseph Rowntree Foundation.
It found that poorer households are more likely to repeatedly move, either through eviction or in order to avoid rising rents.
Furthermore, more than half of all councils now restrict access to social housing to those with a history of rent arrears.
Such disqualifications disadvantage homeless people in particular, a report by Crisis has found.
The same report found many landlords are reluctant to let properties to those with a history of rent arrears, leaving some households blocked out of both the private and social housing sector.
Clavia's story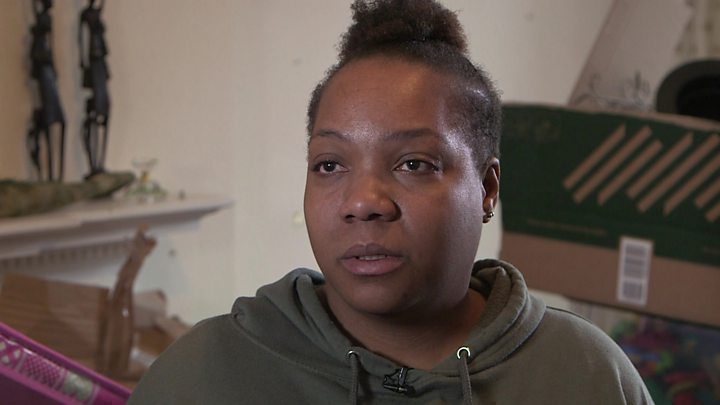 Clavia Chambers, a single mother of two, was evicted by Lambeth Council after building up months of rent arrears in a flat sublet on her behalf.
She says the council "have no empathy, no sympathy, nothing".
According to Ms Chambers, a problem calculating her housing benefit when she took up seasonal work led to the debt - a claim Lambeth Council denies.
Unable to find housing through the council or afford private rented properties, she has stayed with a succession of friends on their spare beds and sofas.
"My eldest has been referred to a support unit in school, as she's not handling being homeless very well," she says.
Ms Chambers has received council help in looking for private rented properties but says "no landlords will touch me with rent arrears".
Lambeth Council said residents were still able to access social housing if "arrears have accrued for reasons beyond the control of the applicant".
Rents in social housing are kept below market rate by law and set aside for those who are most in need, and let on long-term tenancies.
There are about four million social rented properties in England and each council sets its own allocation scheme based on national guidance.
The act does not apply to Wales, Scotland and Northern Ireland, where housing is devolved to national governments.
Since 2010, the number of homes built for social rent has fallen from 39,600 to 5,300 across England.
Michael Jones, research associate at Cambridge Centre for Housing and Planning Research, said "the Localism Act exacerbated things that were already there".
"It comes down to supply of accommodation," he said.
Shad's story
Father-of-four Shad Shinwari, 47, moved from Newham to neighbouring Redbridge in search of cheaper rents after building up £6,000 of debt to pay for his privately-rented property.
"I was told by Newham Council if I moved they would still allow me to remain on the housing waiting list," the Uber driver said.
However, after he moved the law changed, leaving him unable to access social housing from any council.
He said: "My blood pressure is so high these days. This is making me worse.
"We came here under false pretences and they changed the situation. Now we have nowhere else to go."
Newham Council said it was "doing everything to ensure we have good quality, affordable housing in the borough which is fairly distributed".
"The government needs to give local authorities more flexibility and access to the funds to build the homes our residents desperately need," a spokesman added.
Polly Neate, chief executive of housing charity Shelter, said: "Councils simply don't have enough social homes for every family that needs one.
"As a result, some are trimming their housing waiting lists by clever use of the criteria rather than by building homes."
A HCLG spokesperson said the government has planned "for a new generation of council and housing association homes through a further £2bn funding boost bringing investment in affordable housing to over £9bn".
"We have committed to a wide-ranging, top to bottom review of the issues around social housing."