East coast flood warnings over 'supermoon' tidal surge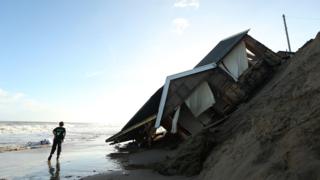 Flood warnings are in force along England's east coast amid concerns over a tidal surge partly caused by the recent supermoon.
The Environment Agency has seven alerts warning that "flooding is expected" on the coast from Whitby to north Norfolk.
The agency said "some overtopping of waves" could be expected during high tide on Thursday evening.
Thousand of properties were flooded and some destroyed following a similar tidal surge in December 2013.
More on this and other stories
Staff at the medieval Boston Stump tower are packing away items in preparation for the high tide, due to hit the town at 18:45 GMT.
Floodwater caused £1m of damage to the 14th Century building in 2013.
The government's flood information service said: "Stormy conditions are forecast, resulting in a large tidal surge moving down the East Coast of England on Thursday evening.
"This will lead to unusually high tidal levels along tidal River Witham in Boston."
For north Norfolk it said: "Tides are expected to be higher than usual and may cause flooding in low lying coastal areas."
The so-called "super blue blood Moon" was seen by much of England on Wednesday night into Thursday morning.
A blue moon occurs when a full moon happens twice in one calendar month, and a supermoon occurs when the Moon is closest to the Earth.
Analysis: BBC climate correspondent Paul Hudson
This tide, caused by the combined gravitational pull of the moon and sun, moves down the east coast from north to south, and is being exacerbated by the current weather conditions.
Firstly, low pressure in the North Sea lifts the sea surface slightly.
Secondly, the strong to gale force north-westerly wind, blowing in the same direction as the tide, adds to its height.
In fact conditions are not dissimilar to those of 31 January 1953, when a catastrophic tidal surge affected the east coast and the Low Countries.
But thankfully nothing on that scale is expected in the next 24 hours.