More retailers remove magnetic putty over arsenic fears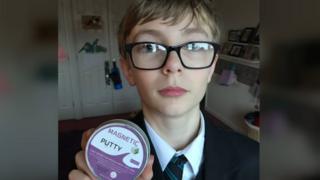 More online retailers have removed a toy from sale over fears it contains dangerous levels of arsenic.
The "Magnetic Putty" had seven times the permitted amount of the poison and was barred from sale by Northamptonshire Trading Standards.
Groupon and eBay have removed listings for the putty, following Amazon.
Ben Clark, 12, received it as a Christmas gift and his father, Jonny Clark, told the BBC he was "angry" at Amazon's "massive failure".
Amazon said if users had concerns they can contact their customer service.
Auction site eBay said the listings have been removed and anyone who had an item they are unhappy with should contact them immediately.
A Groupon spokesman said the product was no longer available on their website and an investigation with the supplier has begun.
He added: "We are speaking to customers to tell them to stop using the product immediately. It goes without saying customers will be refunded for their purchase."
Northamptonshire Trading Standards said only one product had been banned, not all magnetic putties.
It added other brands would be examined as a precaution.
The putty, which has no manufacturer or importer identification, was first found on a market stall in the county.
A magnet included in the banned toy was found to be 29 times over the allowed magnetic force and could be "easily swallowed".
Mr Clark, a creative director from Didcot, Oxfordshire, said his 12-year-old was given the putty by his godparents for Christmas from Amazon - before the putty was found to be potentially dangerous.
Mr Clark's son had commented the magnet seemed "crazy strong".
"I am angry. If it had been bought from a market you'd almost expect it, but this is from Amazon, they are the ones who should have been checking it," he said.
"It's a massive failure on their part - I appreciate they sell thousands of products but they are a big player."
What is arsenic?
Arsenic is a natural chemical element which is present in air, water and land
When it is found in inorganic form it is highly toxic and long-term exposure can cause cancer and skin lesions
Early childhood exposure has been linked to negative impacts on cognitive development and increased deaths in young adults
Source: World Health Organisation
The product was labelled as not suitable for 0-3 years but did not include a CE mark to demonstrate compliance with EU safety, health and environmental requirements for goods.
It also contained twice the amount of permitted lead.
"Truth be told, I should have checked it more," he said, "the tin had a 0-3 cross symbol, but I didn't think to check for any more symbols".
"It was bought as a Christmas gift but we won't be playing with it again - they [Ben's godparents] ordered poison for my son - but we will make a joke out of it."
It is not known how many people bought the putty.