Pte Sean Benton inquest: Army apologises to family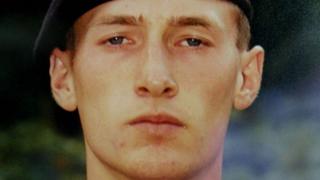 The Army has apologised to the family of a soldier who died at Deepcut barracks in Surrey.
Pte Sean Benton, 20, from Hastings, was the first of four recruits to die at the barracks between 1995 and 2002.
Brig Chris Coles told an inquest there were "quite a number of things that could and should have been better" at the time of his death in June 1995.
He was found with five bullet wounds to his chest shortly after being told he was being discharged from the Army.
Brig Coles addressed Pte Benton's sister, Tracy Lewis, and twin brother Tony at Woking Coroner's Court before being taken through a statement he made in November.
He told the family: "The statement acknowledges quite a number of things that could and should have been better at the time of Sean's death.
"The set-up of Deepcut and the ratio of instructors and trainees was not as it should have been and not as it would be now, and that led to the risk that people in training in Deepcut... their welfare was not properly attended to in the way it should have been, and for that I'm very sorry."
Earlier, the hearing heard Pte Benton had been "shackled" and forced to "parade around" a canteen months before he died.
He had also told his sister he had been "jailed" at the base for 10 days, understood to have been a punishment for breaking a window.
Brig Coles told the inquest there was no formal welfare policy at the barracks in 1995 and junior officers had issued punishments "informally" and that "at times the frequency and severity of the punishments given strayed beyond what was appropriate".
He told the inquest that when Pte Benton was at Deepcut there was "too little supervision", with one corporal to 100 soldiers during the day, and one to 200 at night.
"There would have been times when there was a risk when pastoral and welfare care was reduced."
'Flawed practice'
The inquest heard trainees at the barracks worked as guards and it was not unusual for them to be armed while doing so.
Brig Coles said there would have been "degrees of ability and familiarity" with the weapons.
"As a practice in 1995 it was flawed. There were better ways of doing it."
He said "greater attention" should have been paid to the risks of self-harm by the trainees while on armed guard duty.
On 9 June Pte Benton went to the gate to relieve another guard of his duty, who had handed over his weapon to him, the inquest was told.
Brig Coles said there was no explicit instructions to trainees about handing over weapons.
He also said the excessive amounts of alcohol was "undoubtedly consumed" on the base by some "from time to time".
The inquest, which is taking place without a jury, continues.
---
The Deepcut Four
20-year-old Pte Sean Benton, from Hastings, was the first to be found dead in June 1995

18-year-old Pte Cheryl James, from Llangollen was found with a bullet wound to her forehead in November 1995

17-year-old Pte Geoff Gray, from Seaham, was found with two gunshot wounds to his head in 2001

17-year-old Pte James Collinson, from Perth, was found with a single gunshot wound through his chin while on guard duty in 2002