Pte Sean Benton inquest: Recruit 'shackled' at barracks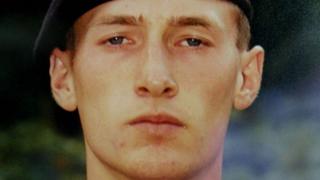 A young Army recruit confided in his sister he had been "shackled" and forced to "parade around" a canteen months before he died at Deepcut barracks in Surrey, an inquest heard.
Tracy Lewis was giving evidence at the start of an inquest into Pte Sean Benton's death.
Ms Lewis said her brother had told her he felt humiliated and embarrassed.
Pte Benton, of Hastings, was the first of four recruits to die at the barracks between 1995 and 2002.
He had five bullet wounds to his chest.
'Humiliated'
The inquest heard that in March 1995 - three months before he died - Pte Benton told his sister he had been "jailed" at the base for 10 days.
It was understood to have been a punishment for breaking a window.
Ms Lewis said her brother told her he had been "in jail for 10 days" and "shackled".
She added: "He used that word. He was made to parade around the canteen, which embarrassed him, and he felt really humiliated."
When asked if Pte Benton had told her he felt humiliated, Ms Lewis replied: "Yes."
She said her brother had declined to eat and asked to go back to the cells.
Ms Lewis said her brother also told her about another incident, revealing he had been pushed out of a window.
Adding that he smoked and drank more alcohol after he joined the Army, she said: "He was different. He appeared different."
The inquest heard Pte Benton had taken two overdoses of paracetamol - one when he was 16 and on another occasion in the Army.
This is the second inquest into Pte Benton's death after his family campaigned for a full investigation amid allegations he suffered prolonged physical and psychological bullying at Deepcut.
An original inquest in 1995 recorded a suicide verdict.
Coroner Judge Peter Rook QC told the court the scope of the 1995 inquest had been "limited" and by engaging Article Two of the Human Rights Act, he had enabled a "broader" inquiry.
He said the inquest would look at factors including: who fired any shots when Pte Benton died, his state of mind, bullying and harassment at Deepcut and any systemic shortcomings that may have contributed to his death.
Pte Benton's mother died in 2015, but some of her statements were read out.
One questioned why her son's death was "very quickly treated as suicide" and said there was "something not right".
She asked why, if the Army was concerned about her son's welfare, he was not more closely supervised.
In one statement, she recalled him coming home "withdrawn and tired".
That weekend, she said he told her he was not being bullied, but the barracks were "doing his head in and he wanted to get away".
The inquest, which is taking place at Woking Coroner's Court without a jury, was adjourned until Thursday.
---
The Deepcut Four
20-year-old Pte Sean Benton, from Hastings, was the first to be found dead in June 1995

18-year-old Pte Cheryl James, from Llangollen was found with a bullet wound to her forehead in November 1995

17-year-old Pte Geoff Gray, from Seaham, was found with two gunshot wounds to his head in 2001

17-year-old Pte James Collinson, from Perth, was found with a single gunshot wound through his chin while on guard duty in 2002