Wildlife Trusts calls for new housing 'to restore nature'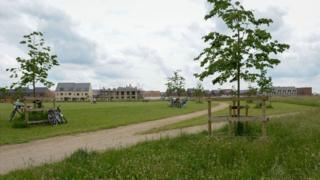 Community orchards, bat roosts and "blue corridors" should be part of new housing projects, according to a major wildlife charity.
The Wildlife Trusts said plans to build 1.5 million new homes by 2022 must not be allowed to damage the environment.
The charity says careful design and location could also lead to economic benefits for builders and communities.
Builders said housing must not be "skewed" to cities, while councils want more help from the government.
The Nottinghamshire-based Wildlife Trusts represents 800,000 members and manages 2,300 nature reserves.
Its report - 'Homes for people and wildlife - how to build housing in a nature-friendly way' - said the "natural environment must be put at the heart of planning".
Rachel Hackett, from the Wildlife Trusts, said: "A huge challenge lies ahead, thousands of new houses are to be built yet we need to restore the natural world.
"Our new guidelines show that it's possible to have both.
"With good design the costs of doing this are a tiny proportion of the overall cost of a housing development, but represent a big investment for the future."
---
Housing developments
Cambourne, Cambridgeshire
Three villages of 4,200 homes with 60% of the area made up of green space, much of it pre-existing.
There are 12 miles of new footpaths, cycleways and bridleways and 10 miles of new hedgerows.
Stanley Park, Easton, Bristol
Thirty houses signed up to the community project, which saw front gardens transformed into wildlife havens, with specially-selected plants and habitats.
The houses provide a corridor between two neighbouring green spaces, allowing wildlife to move more freely.
Woodberry Wetlands, Stoke Newington, London
Victorian reservoirs had access opened up for local communities and new wildlife habitats created.
As well as a popular destination for people, a large diversity of birds has been attracted.
---
Guidelines from the Wildlife Trusts include retaining existing meadows, wetlands and woods, and joining them to wildlife gardens, green spaces and cycle paths.
Design elements like water permeable drives, grass roofs and renewable energy would all help to reduce housing impact, the charity says.
A network of vegetation rich green corridors and managed water blue corridors would link larger wildlife areas.
The Trusts said this would benefit not only wildlife but also residents with better quality of life, communities with reduced healthcare and environmental costs, and builders with more desirable developments.
But the industry said clear priorities needed to be maintained.
Richard Beresford, chief executive of the National Federation of Builders, said: "Our members support every effort to better safeguard our wildlife and environment. However, this should not mean skewing development to cities when our less urban communities desperately need homes.
"We welcome the Wildlife Trusts' ambition but hope, before they begin influencing the planning process, they are able to collaborate more closely with the housebuilding industry."
Martin Tett, from the Local Government Association, said councils "need the planning tools to make sure developers build good quality homes in the right places".
"Government should work with councils to establish a clear, robust and transparent viability procedure which ensures the delivery of affordable housing, infrastructure and other amenities that communities need," he added.