England's curiosities: Your questions answered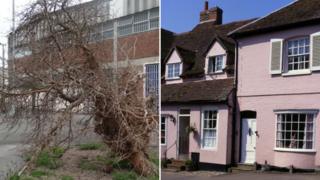 Have you ever wondered why children sing 'here we go round the mulberry bush' or why houses in Suffolk are pink? Here are the answers to some of the questions sent in by our readers.
Where is the smallest window in England?
Not only is the George Hotel in Hull one of the oldest surviving pubs in the city, dating back to 1683, it also claims to have the smallest window in England.
Originally a coaching inn, its window - which is more like a slit in the wall - is said to have been used by the porter to look out for stagecoaches and customers so they could be given immediate attention.
Why do we sing 'here we go round the mulberry bush'?
BBC News Online reader Neil Smith says: "I am curious as I live in Mulberry Close with a tree of the same name."
The children's nursery rhyme about washing faces, combing hair and putting on clothes is thought to have originated at Wakefield Prison in the 1700s.
Women prisoners made up the song as they danced around the tree with their children in the former House of Correction's exercise yard, according to former governor RS Duncan.
The tree still stands in the grounds and was shortlisted by the Woodlands Trust for its England's Tree of the Year award in 2016.
Why is there no English parliament like the other home nations?
Steven Flook, 57, from England's northernmost town Berwick-upon-Tweed, says he was prompted to ask this question after the cabinet reshuffle.
He says: "When I was going through the new cabinet announced by Mrs May I noticed that there were ministers for the three smaller home countries but no similar post for England. Why not?"
Dr Matt Cole, a historian from the University of Birmingham, said England had tended to reject various attempts to offer devolution, while the other nations had welcomed it.
The North-Eastern Assembly, for example, was rejected by four to one in a referendum in 2004.
Mr Cole said David Cameron had proposed changing the rules so that only English MPs could vote on England-only matters following the 2014 Scottish independence referendum.
"But he knew that Labour would resist this fearing that a future Labour government would be unable to pass its legislation and budgets for Tory England," he said.
"Similarly, of course, Conservatives resisted Scottish and Welsh institutions for many years because they feared rightly that they would be unlikely to control them.
"Most of all, in an era of declining trust in politicians, the idea of increasing their number has not been popular with the public."
Why is pink the traditional colour to paint houses in Suffolk?
Paul Neville, 48, from South Yorkshire says he noticed many pink houses while visiting the county.
"I remain fascinated by architecture and follies and the quirky stories behind them," he says.
Suffolk is a county in East Anglia famed for its historic pink timber framed buildings - but how did the tradition start?
"True Suffolk pink is a more dusky terracotta than the pastel pinks we see today," says Suffolk tour guide Claire Partner.
"It's thought that buildings used to be lime washed to protect them and if they wanted to thicken the paint they would use pig's blood.
"We don't mix paint like that anymore and over the years we've moved towards a pinker shade."
It is believed that Suffolk Pink dates back to the 14th Century and other natural ingredients such as elderberries, blackthorn or sloe juice were also added to create the colour.
Why does Kew Gardens have its own constabulary?
The Royal Botanical Gardens, Kew, in Richmond, south-west London, has the largest collection of living and preserved botanical specimens in the world.
It also has its own constabulary, which was set up in 1845 to police the tourist attraction.
In the beginning a few Metropolitan Police officers patrolled the grounds but by 1850 the annual attendance figure had reached nearly 180,000.
When the Crimean War ended in 1856, army pensioners swelled the ranks to help control the flood of visitors.
As of August 2017, the force had 20 members of staff, including eight constables.