Ex Live Nation executive sentenced for 'up-skirting'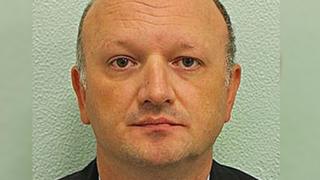 A former executive at an entertainment company filmed up women's skirts using a hidden camera.
Andrew Macrae, who was vice-president of ticketing company Live Nation, amassed almost 50,000 images of strangers for his sexual gratification.
A search of the 43-year-old's home found a hard drive containing secretly taken images dating back to July 2013.
The defendant told officers he was "disgusted" with himself. He was given a 20-month suspended sentence.
The images were taken on public transport, his home and at a neighbour's address, and also featured Macrae wearing some victims' underwear, Inner London Crown Court heard.
Guest bedroom camera
The off-duty police officer who confronted Macrae, described his actions as "despicable", after noticing a pen-shaped camera in a laptop bag Macrae had placed between a woman's legs at Clapham Junction station on 19 July.
The court was told Macrae, now of Ludlow in Shropshire, also installed a camera in the guest bedroom of his home in Redhill, Surrey, to film his wife's friends when they stayed over.
He filmed through his neighbour's window while she was undergoing a waxing treatment, and photographed himself in her underwear.
The married father of one further revealed he had filmed a colleague during a brief meeting and taken some of her underwear from her gym bag and photographed them laid out on his desk.
He admitted seven counts of voyeurism for the purposes of sexual gratification and one count of outraging public decency, at a previous hearing.
The former executive said he was under financial pressure and a psychiatrist diagnosed him with traits of Asperger's syndrome, an acute reaction to stress, and features of sex addiction.
Det Insp Driss Hayoukane, the officer who spotted Macrae's actions on the train, said: "Macrae's despicable actions constituted a gross breach of trust against his victims.
"As well as members of the public travelling to work, Macrae targeted victims he knew personally, over a sustained period of time, for his own sexual gratification."
Sentencing him to 20 months, suspended for two years, Judge Jeremy Donne QC said: "This was undoubtedly a sophisticated, organised, planned and long-running campaign of voyeurism, albeit sporadically."
His contract with Live Nation was terminated following his arrest in July.