Andargachew Tsege's wife hopeful Ethiopia will release him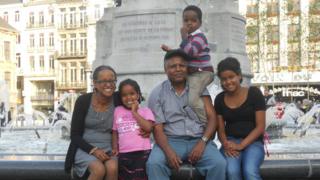 The wife of a British man imprisoned in Ethiopia has said she feels "optimistic" after the government said it would free its political prisoners.
Opposition activist Andargachew 'Andy' Tsege was seized nearly four years ago in Yemen and taken to Ethiopia.
His wife Yemi Hailemariam, who lives in Islington, north London, told the BBC she is "hopeful" but has her doubts until she hears more.
Ethiopia's Prime Minister made the promise on Wednesday.
It was unclear from Hailemariam Desalegn's surprise announcement exactly who will be released or when it will happen.
Sentenced to death
Mr Andargachew, a UK national, has been in prison in Ethiopia since being arrested during a stopover at a Yemen airport in June 2014.
The father of three was sentenced to death while in exile for plotting a coup - which he denied.
Mr Andargachew had been secretary-general of Ethiopia's banned Ginbot 7 movement.
Mr Andargachew's wife says her overall optimism about the prime minister's announcement is clouded by some doubt as it is unclear who will be released or when.
She added that she saw it as a "very credible" announcement though.
But she is keeping the news from her youngest children to prevent them from getting their hopes up.
Mrs Yemi says she has not had direct contact with her husband since his arrest.
"All my information comes from the embassy," she said.
"It's just statements to see how well he is doing."
In his announcement on Wednesday, the Ethiopian prime minister also said the notorious Maekelawi detention centre, allegedly used as a torture chamber, will close.
Mr Andargachew is being held in a different prison, Kality, which is also in the capital Addis Ababa.
Mrs Yemi said the decision to close the Maekelawi detention centre was surprising and called it a "major step".