New year resolutions: Inspiring stories from 2017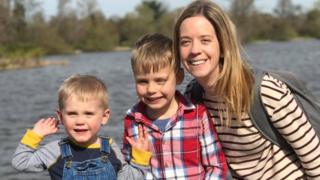 It's no easy thing to stick to a new year resolution - it's a challenge, with the best will in the world. But whether it be emigrating to Canada, reclaiming your identity beyond motherhood, or tinkling the ivories with tunes from memory, here are some inspirational stories from around England to get you off to a good start.
'Becoming me again'
Amy Jones made it her goal to rediscover herself after becoming a mum.
"At the end of 2016 I found myself celebrating all of my family's achievements, yet didn't feel that I had any of my own.
"I was a stay-at-home-mum for more than five years and made the classic mistake of somewhat losing my own identity.
"I'd mostly notice it around friends who weren't in the same boat.
"Conversation would often falter when they asked, 'what's new with you?' and my reply would focus on what was happening with my boys and my husband's work."
Amy, from Ashtead in Surrey, set herself three goals - find her interests, start a hobby and find a job by the end of the year.
She created a Facebook group in February where parents can share advice and tips and it now has almost 700 followers.
"It's totally surpassed my expectations and the support of the other members has made it a pleasure to run."
Amy also completed her first 5k race in August and got a job as a social media assistant.
"Finally, in November I secured my first job since I became a mum - working from home, so I can still be 'mum' before and after school.
"But in those hours in the middle, I feel like I've really achieved my resolution of becoming me again."
'By autumn I'd cracked it'
Paul Thompson, from Manchester, learned to play the piano as a child but stopped when he left for college.
After buying a cheap second-hand grand piano, he resolved to learn an hour of classical piano from memory - by autumn, he "had it cracked".
"I'm in my 50s now and I'm sure this is the only time I've managed to see a New Year resolution through for the whole year.
"To do it without interruptions I used to get up at 2:30am and even bought an electric piano to enable me to practise using headphones without waking the whole street.
"By autumn I had it cracked, I could do an hour from memory - a variety of classical beauties including sonatas by Haydn and Mozart.
"I've done this for myself, I don't plan to be a professional, I don't have anything like the time to devote to it, but I'm now satisfied with what I can do."
Paul has vowed to continue playing next year, saying: "I've added a couple more pieces to the list and am working on those while trying to keep the remainder on the boil."
Brexit 'spurred us into action'
After Brexit, environmental scientist Charlotte Billingham, 32, decided to make good on her long-held ambition to emigrate to Canada.
Along with her husband Fred, 33, she has now been accepted for permanent residency and they are preparing to swap Liverpool for British Columbia.
Before applying, the couple had visited Canada eight times between them, including their honeymoon in 2012.
"Though we always had the ambition to live abroad, we maybe lacked the courage to pull the trigger until last year," said Charlotte.
"The pull factors of a better quality of life, stunning landscapes and adventure were always there."
The former research assistant and project manager said she had always held EU-funded jobs and would have had to "reinvent" her career post-Brexit.
"We admire Canada and its open-armed approach to immigrants - both skilled workers like us and refugees who are in desperate need.
"The UK feels less compassionate and less happy than it did even 10 years ago."
The pair received the "holy grail" - the confirmation of permanent residence document - on 18 August; their fifth wedding anniversary.
Charlotte and Fred have been packing over Christmas, plan to put their house on the market in January and emigrate soon after.
"It has been a rollercoaster year. We never expected we'd actually crack it within the year but I guess commitment, focus - and a bit of luck - does get results," she said.
"My husband and I are not natural risk-takers, we're classic planner-organiser types, so this has challenged us hugely to ignore the fear and accept that you can't control everything."
You might also be interested in:
'It really opened my eyes'
Eleanor Bull was tired of having the same meals in the same places and became worried big chains would take over the restaurant world.
So she resolved only to eat at independent restaurants.
"If we don't support local and smaller businesses they will be driven to the wall and we will lose some really exciting food.
"I found that with a little extra effort I could find places my friends were happy to try without them even noticing that I was avoiding the chains."
She said for 2018, she plans to set a new resolution to extend her chain ban to cafes.
"I tried some really great new cuisines that you don't get in the chains, such as Peruvian and Polish. It's also been a really good way to get to know a new place.
"It's really opened my eyes to all kinds of different foods and places I wouldn't have been to before."
'Make sure you have passion'
Rhys Hatherall signed up to a beginners' yoga class to combat a stressful time in his life.
"The circumstances were a combination of recovering from injury, illness in the immediate family, and losing one of my best friends, Daisy the dog," he said.
"I needed something to keep me active and offer some aspect of wellbeing or meditation. Trying something new and taking care of myself was quite important for me."
Rhys said his biggest challenge was turning up on the first day having "no real understanding of how the next hour-and-a-half was going to pan out".
"I was, of course, met with a bunch of smiling faces and mats just as new as mine."
After a year of committing to the self-imposed task, he has a message to those thinking about doing the same.
"Don't just make a resolution for the sake of doing it, make sure you have some passion before setting out.
"The worst thing that will happen is that you will learn what you don't like doing, you might even find some you like."