Treasure finds in England top 1,000 for first time
By Laurence Cawley
BBC News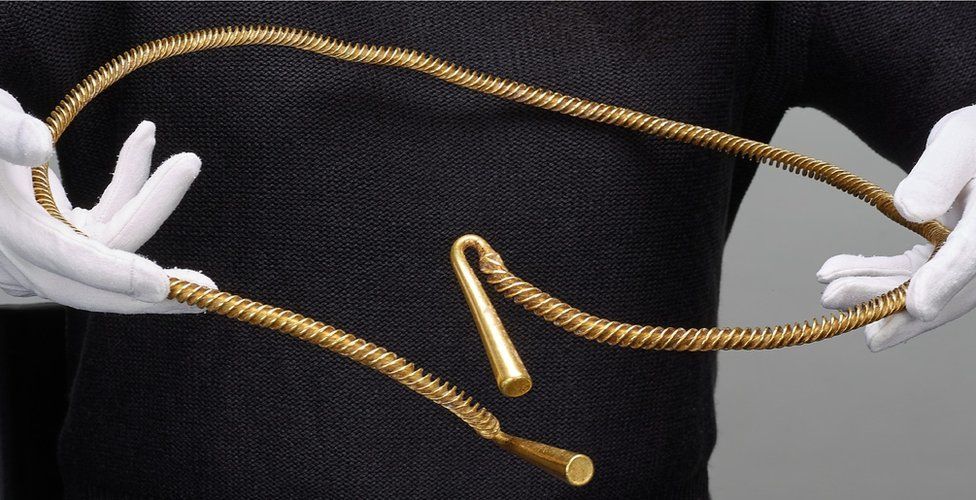 The number of reported annual treasure finds across England has topped more than 1,000 for the first time since records began. But what have been the most intriguing and important discoveries reported in recent years?
The total number of finds is growing, new figures show. Between 2015 and 2016 the number of reported treasure finds grew 11% from 966 to 1077.
A further 40 were discovered in Wales and three in Northern Ireland.
So BBC News asked Ian Richardson, the treasure registrar for the Portable Antiquities Scheme, to name five recent finds that he considers significant.
Valued at £220,000, the piece is made of 730g of near pure gold.
"It is a bit like a necklace only this is a lot bigger," says Mr Richardson. "It could have been worn by a pregnant lady or it could have been designed to go around an animal - we just don't know.
Second on Mr Richardson's list is a Viking hoard of arm rings, coins and silver ingots unearthed in Oxfordshire in 2015.
It consists of 186 coins and includes rarities from the time of Alfred The Great of Wessex, who reigned from 871 to 899, and King Ceolwulf II, who ruled Mercia from 874 to 879.
Archaeologists have called the hoard, discovered by 60-year-old metal detectorist James Mather, a "nationally significant find".
'Psychedelic' Roman glassware
Shattered, but complete, they are now part of a fund-raising bid by the North Herts Museum which wants to acquire them from the farmer who owns the land where they were discovered in April 2015.
They are believed to have been made in Alexandria, Egypt.
"As well as some copper alloy vessels there were two glass bowls which were made using this very special technique and which boast a large number of colours," Mr Richardson says.
The two bowls, he said, resemble the psychedelic designs of the 1960s despite dating back to around AD200.
"It would be used to read sacred texts and worn so as not to defile the pages," said Mr Richardson. "There are other aestels out there, but this was very elaborately designed."
It is now on display at Moyses Hall Museum in Bury St Edmunds.
Mr Richardson's fifth choice was a medieval silver pendant which would have once held a tiny religious relic.
The relic inside has been lost, but it is the pendant itself which is the treasure.
The pendant forms the 19th letter of the Greek alphabet - tau - and is made of separate pieces which join together.
Acquired by York Museum, the reliquary pendant was found in the Selby area in 2015.
About 95% of all treasure finds - defined as any object that is at least 300 years old when found and with a 10% precious metal content - are made by detectorists.
"There are plenty of things that are absolutely stunning and unique too because they were made not by machines but by hand," says Mr Richardson.
"I often still can't believe that someone had the skill and time to make some of these things."
Norfolk topped the list for treasure finds with 130 discoveries in 2016, followed by Suffolk with 81.
Julie Shoemark, the finds liaison officer for Norfolk, said the rising number of reported treasure finds corresponded to a growth in the numbers of metal detecting clubs.
Related Internet Links
The BBC is not responsible for the content of external sites.