What is it like to live near the scene of an unsolved murder?
By Laurence Cawley
BBC News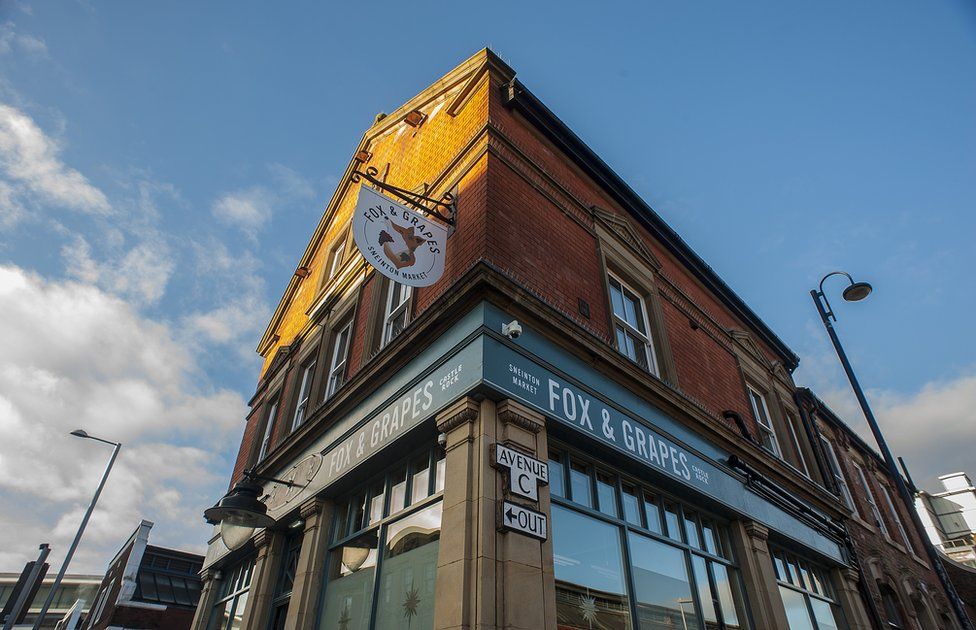 The scenes of some murders are considered such an unwelcome reminder of what happened that they are torn down, as with the Cromwell Street home of serial killers Fred and Rosemary West. But in most instances, the physical reminders of a neighbour's demise loom large.
Yet for some communities, these structures provoke questions not just of "why?" but also of "who?", for across England there are more than 1,400 open murder cases dating back the best part of a century. So how does it feel to live in the shadow of an unsolved murder?
'It is part of my childhood'
Within seconds of me setting up my tripod, a man appears and asks protectively, though politely: "What are you doing here?"
I explain I am taking a picture of 98 Greswolde Road, the former corner shop building in the Birmingham suburb of Sparkhill where pensioner sisters Alice and Edna Rowley were found murdered on 23 December 1987.
The body of 87-year-old Alice, who had been strangled, was found in the living room. Edna, 77, who had been smothered, was discovered in her bedroom.
"Ah yes, Edna and Alice," says my interrogator Lloyd Archer. "Terrible."
He beckons over a neighbour, Denis Byrne, who is out walking his small three-legged dog.
It might seem peculiar, but the two men not only know about the killings, they also know what others in the street know about the murders.
This network of intelligence, accumulated over many years during myriad neighbourly conversations, spans issues including the suspected culprits, theories as to how the women came to be killed and the fate of their murderer.
"There was a terrible feeling locally here," says Mr Byrne, who lives opposite the corner shop.
"They were two old ladies who never interfered with anybody, kept themselves to themselves."
He tells of the "ha'penny jars of toffees" and how the sisters would sometimes treat children to freebies if they didn't have any money.
Eight years after the murders, the building was bought by Ahmed Khan and converted into the Islamic Cultural and Education Centre.
Mr Khan, who says he was fully aware of the killings when he bought the shop, believes whoever killed the sisters is now dead.
Thelbert Alleyne, who moved in opposite the shop 63 years ago, has lived on Greswolde Road perhaps longer than anyone else.
The day after the murders, his son Frank was stopped by police on his way back to the family home for Christmas.
It was there, in the middle of the street, that Frank learned the two old "lovely ladies" - whose chin whiskers had fascinated the area's younger residents - had been murdered.
"It (the shop) is part of my childhood and memories," he says.
"If you had five or 10 pence you'd pop over to Rowley's for sweets, and if you didn't have enough they'd always let you have something.
"They'd be in the back area and would come through and serve you when they heard the bell.
"In those days it was a very close community. Everyone on this street, everything on this street, was known to everyone."
He raises his head and gives a knowing smile at the suggestion this still seems to be the case.
'You wonder if you've just walked past the killer'
As the crow flies, the mother of Johanna Young lives less than a mile from the water-filled pit in which her 14-year-old daughter's body was found on Boxing Day in 1992.
"I have never felt the need to," she says.
Johanna's parents last saw her on the cold and foggy evening of 23 December.
Johanna was lying face down in water with her lower clothing removed. The cause of death was drowning and a fractured skull.
Her killer or killers - Mrs Young believes more than one person was involved - have never faced justice.
Remaining in the place where a daughter had been murdered might have been too much to bear for some families.
The Youngs have stayed put, Mrs Young says, in part to look after her mother but also because Watton is their home.
"Some people speak to me about it, some people don't," says Mrs Young. "I don't really mind either way.
"Most of the time it is fairly quiet. But then there is a piece in the newspaper about it, or a fresh appeal, and then people will talk to me about it, saying things like they wish us luck or hope the police find something this time."
The Youngs remain haunted by the many unanswered questions.
"She was still alive when she was dumped in the water," says Mrs Young.
"They should have sought help or at the very least just left her. She might still have died but maybe not.
"It is with you all the time - why did they dump her in the pond? Who did it? Why? Were they alone?"
The Youngs know their daughter's killer is not only still at large, but is probably nearby.
"You do wonder if the person you just passed in the street was the killer."
'People ask me if I am feeling lucky'
Shortly after midnight on 8 September 1963, landlord and former miner George Wilson took his dog out for a walk. Twenty minutes later, his wife Betty found him outside their Nottingham pub, the Fox and Grapes, with horrific stab wounds to his face, neck, head and back.
The 41-year-old father of two's death - which came to be known as the Pretty Windows murder because of the attractive glasswork at the pub - shocked the city and triggered one of the biggest manhunts carried out by Nottinghamshire Police.
A few months ago the Sneinton pub, whose name was changed to Peggars after the murder, reopened under its original name.
The new manager is Danylo Semak, who was born and raised in Nottingham.
"Some people have asked me whether I am feeling lucky," he says.
"But in general people do not talk about the murder quite as much as I thought they would.
"It happened, and we understand it happened, but as far as I am concerned it was many years before I was born.
"That is one thing we have tried to do: be sensitive towards it and acknowledge it but not sensationalise it in any way."
The Creative Quarter's chief executive officer Stephen Barker explains that the murder is rarely mentioned, not least because of how long ago the killing took place and the number of people who have moved on, and in, since 1963.
But lingering for 10 minutes in that same office, it is clear that the murder has seeped into the public consciousness more than it might seem at first: theories as to the motive are swapped, questions are asked about whether the killer knew Mr Wilson's dog-walking routine or if he had specifically targeted the publican.
And while there is no plaque to remember his life at the Fox and Grapes itself, preserved in a wooden frame, one of the original "pretty windows" remains - a symbolic link to one of the most notorious murders the city has known.
Edna Harvey, who lived alone in a ground-floor flat in the horseshoe-shaped Finchley Road in Ipswich, was not well known to most of her neighbours.
This was not because the 87-year-old was in any way anti-social, but because she was nearly blind and extremely frail and rarely ventured beyond the confines of her flat.
That frailty, and the fact Edna lived a simple life with meagre possessions, made the brutality of her murder in August 1984 all the more shocking.
More than 30 years on, Frank Culham remembers the murder vividly.
"The police were going around knocking on all the doors asking whether anybody had seen anything.
"It was so very sad. Back then it was so nice and quiet here. Things altered."
Memories of Edna are vanishing fast, but unlike with the Pretty Windows murder, or the killing of the Rowley sisters, it seems the story of her death is not being passed on to newcomers.
The reason, according to the street's self-proclaimed "old guard", is that the sense of community they once enjoyed has long been shattered.
Edna's death and the suspicions it aroused are felt to have played a role in the dissipation of that social cohesion.
Molly and Michael Adams, who live a few doors down from Mr Culham, moved into Finchley Road more than 50 years ago.
Back then, they say, neighbours would sit out in their front yards sharing their news and views.
"We do still think about her," says Mrs Adams.
"Whenever there is an unsolved case on television or in the paper, we wonder what happened to her and who could have done such a thing - she didn't have much and she could barely see.
"This used to be a really strong community. In 1977 the whole street organised a party and we had the whole road closed off. On New Year's Eve we would get together and do the conga in the street. We've drifted apart, things have changed.
"We knew about Edna from Sylvie, who was her carer. Sylvie has since died, as have quite a few other people who remembered the case.
"There are not many of us left who remember what happened."
Photography by Laurence Cawley
Related Internet Links
The BBC is not responsible for the content of external sites.