'No others involved' in Gaia Pope's death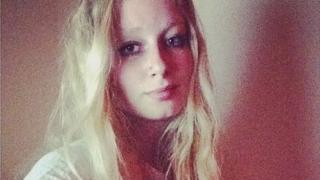 There were no injuries to suggest "any other person was involved" in the death of missing teenager Gaia Pope, police have said.
The 19-year-old's body was found on Saturday in a field near Swanage, 11 days after she was last seen.
Dorset Police is treating her death as "unexplained" pending toxicology results.
Three people were arrested on suspicion of murder as part of the investigation and released under investigation.
Det Supt Paul Kessell said: "The post-mortem examination has not identified any injuries to suggest any other person was involved in her death.
"The cause of death is undetermined, pending toxicology. The coroner is involved in the oversight of these examinations but at this time this remains an investigation into an unexplained death."
Miss Pope, who had severe epilepsy, had not been seen since 7 November.
Her disappearance prompted a massive campaign from family and friends who spent days scouring the town.
'I am heartbroken'
Items of clothing she was wearing on the day she went missing were found on Thursday, close to where her remains were found near a coastal path.
Police thanked volunteers for their help in searching for the teenager, but have asked people to stay away from the site due to safety concerns.
Det Supt Kessell added: "I reiterate this area is steep and slippery in an exposed area close to sea cliffs. The area is covered in dense undergrowth and gorse and can present a hazard.
"The area where the body was located is likely to remain cordoned off for some time while forensic examinations and searches are concluded."
Earlier, Miss Pope's twin sister, Maya, spoke of her heartbreak and vowed to "make her [sister] so proud".
On Facebook, she added: "Can't find any words right now. Gaia is my everything and I am heartbroken. I thank everyone who was involved in searching for my beautiful twin."
Her elder sister, Clara Pope-Sutherland, said the 19-year-old was the "light of my life" and "intelligent, beautiful and emotionally wise".
'Absolutely devastated'
A church service was held at St Mary's Church in Swanage with candles lit in memory of Miss Pope on Sunday night.
Team rector, the Very Reverend John Mann, said: "When you see the candles together it brings that sense of unity.
"There were police and people who had been out searching at the service - that added to the sense this was a community together, we were there together."
Floral tributes have begun to be left on the Alfred Monument, next to the sea front.
Family friend Sheri Carr, who organised the Find Gaia social media campaign thanked the public for its support.
"We are absolutely devastated, and unable to put into words our feeling of loss," she wrote on social media.
On the day she went missing, Miss Pope was seen at about 15:00 GMT buying an ice cream at St Michael's Garage, having been driven there by a relative.
She was then spotted an hour later on CCTV in Manor Gardens, off Morrison Road.
Rosemary Dinch, 71; her 49-year-old son Paul Elsey; and 19-year-old grandson Nathan Elsey - all of whom were known to Miss Pope - were questioned by detectives and released under investigation.