Arthur Collins guilty over Dalston nightclub acid attack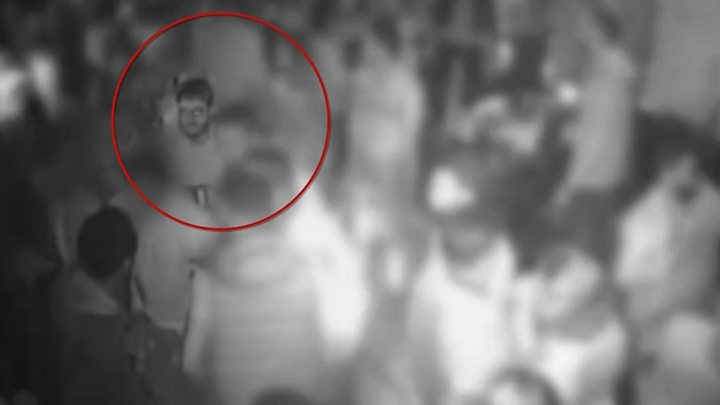 A man has been found guilty of carrying out an acid attack in a packed London club which left 22 people injured.
Arthur Collins, the ex-boyfriend of reality TV star Ferne McCann, threw the corrosive substance at revellers in Mangle E8 in Dalston on 17 April.
The 25-year-old admitted throwing the liquid but had claimed he believed it was a date rape drug.
He was convicted at Wood Green Crown Court. Andre Phoenix, who was accused of helping him, was found not guilty.
Twenty-two people were injured, 16 of those suffering serious burns, when Collins sprayed acid over revellers inside the busy east London venue at about 01:00 BST.
One man suffered third-degree chemical burns to the left side of the face and required a skin graft. Others had eye injuries.
Phoebe Georgiou, who had been celebrating her 23rd birthday in the club that night, said she still suffers from night terrors and anxiety about being in crowded places having been hit by the substance.
When she was taken to hospital she said she "saw my reflection in the shower hold, which was so shocking because my whole chest looked like it had been ripped apart and I could see the inside of my chest and my arm".
"I have a life sentence to deal with, with scars and mental injuries," she said.
A solicitor for two of the other victims said Collins' "despicable crime" had "changed the lives of so many people in the club that night".
CCTV shown in court showed clubbers clutching their faces and running off the dancefloor as they were hit with the liquid.
Victims told the jury their skin began "blistering straight away" and described a burning smell. The liquid was later found to have a rating of pH1, equal to strong acids such as those used in battery acid.
Collins told the court during the trial he had been at the club celebrating the news of Ms McCann's pregnancy, which the couple had revealed to her family the previous day.
He was seen on CCTV getting into a confrontation with a group of men in the club before he sprayed liquid from a bottle over the crowd.
Following the trial the Met said Collins had grabbed the bottle "from the back pocket of an unidentified man".
Collins, of Broxbourne, Hertfordshire, had claimed in court he had taken the bottle from that group and thought it was a date rape drug.
However, the jury found him guilty of five counts of GBH with intent, and nine counts of ABH against 14 people.
Collins will be sentenced on 19 December.
He was not arrested for several days after the attack and was eventually detained when officers Tasered him after he tried to flee by jumping from an upstairs window of a house in Northamptonshire.
Scotland Yard said he answered no comment to all questions put to him after he was detained.
Det Ch Supt Simon Laurence said Collins had intended to "inflict serious harm" on a large number of people in a "barbaric and cowardly act".
The court heard Collins had sent a text to his sister a week before the attack, reading: "Tell mum to mind that little hand wash in my car acid".
Collins claimed he was referring to hair-thickening shampoo which contained amino acid, which he needed for his hair after having two hair transplants.
He had said he kept the shampoo in his car so his girlfriend did not find out about his hair loss.
Lily Saw, London CPS reviewing lawyer, said the prosecution had "proved this acid attack was no accident".
"Acid can be as much of a weapon as a knife with equally damaging consequences," she said.