Paralysed woman's life-sustaining treatment 'can end', judge rules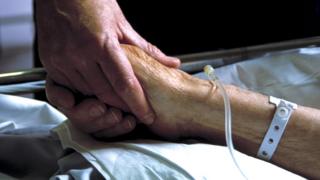 A paralysed elderly woman whose care became the focus of a family dispute can have her life-sustaining treatment discontinued, a judge has ruled.
The 72-year-old was left "minimally conscious" after suffering an aneurysm following a fall in 2016.
Doctors wanted artificial feeding to continue but relatives were divided.
A judge concluded the woman would have viewed her "present high level of dependency and minimal awareness" to be a "travesty of life".
The matter came before a Court of Protection hearing, sitting in Preston, where issues relating to people who lack the mental capacity to make decisions are considered.
The woman's sisters wanted her feeding to carry on in the hope that her condition would improve, but her daughters and partner disagreed.
Mr Justice Hayden concluded that the woman, who is being cared for at a unit in the north of England, would have found her "present circumstances" to be "not only intolerable but humiliating".
The court previously heard the woman, identified as Mrs P, had sent an email to one of her daughters nearly four years before her fall, in which she wrote about her fear of being left in such a condition.
'Wishes and feelings'
The judge said evidence from family members had permitted the woman's "voice to be heard" at the hearing.
He said her "incapacitous state" did not mean that her wishes could be "disregarded".
Staff at Salford Royal NHS Foundation Trust had asked for a ruling on whether the treatment should continue.
Following the publication of the judge's ruling on Monday, a lawyer representing one of the daughters said there were no winners or losers.
Mathieu Culverhouse, of law firm Irwin Mitchell, said: "The judge has decided that withdrawing the life-sustaining treatment is in my client's mother's best interests given her current quality of life and her previously expressed wishes and feelings."
"While the court has dealt with the case very sensitively, my client and her sister have found it distressing and painful to have to go to court to fight for their mother's wishes to be respected, and they hope that in future a different way can be found to resolve cases such as this, so that other families do not have to go through the same ordeal."