Public schoolboy rapist Chiron Hutchinson jailed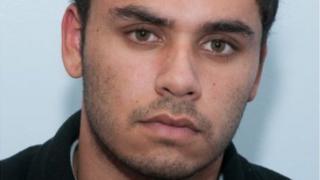 An "entitled" ex-public schoolboy who raped two women and had sex with an underage girl has been jailed for 20 years.
Chiron Hutchinson, 20, attacked the women, aged 17 and 24, in the Tunbridge Wells area.
He had sex with the 14-year-old after contacting her on Facebook.
Judge Mark Jonathan Dennis QC branded Hutchinson a "narcissist" and "opportunist", and ordered him to serve an additional eight years on licence.
During sentencing at Maidstone Crown Court, the judge said Hutchinson had shown deliberate behaviour borne out of "a sense of entitlement".
He said the former pupil at St Bede's, in Hailsham, Sussex, had engineered situations to take advantage of young women.
The court heard Hutchinson raped the 17-year-old inside and outside his car in woodland near Tunbridge Wells on 2 October 2016 after meeting her in the town's MooMoo nightclub.
'Fifty Shades boast'
He subjected her to an ordeal that "could only be described as abduction", the court heard.
Six days later, prosecutor Christopher May said, Hutchinson met a 24-year-old French woman "by chance" and offered her a lift home, but parked in nearby Rusthall and raped her.
A month before, Hutchinson sexually assaulted and had sex with the 14-year-old girl.
He admitted two charges of sexual activity with an underage girl.
The court heard Hutchinson struck up a Facebook conversation, offered her a lift from school and took her to his home in Uckfield, where he assaulted her.
A few days later they had unprotected sex in a park, the court was told, but Hutchinson told the girl not to tell anyone his age when she talked about seeing a doctor.
The court heard he boasted he "knew the law" because his aunt was a QC and a top lawyer, but Mr May said: "The person he is referring to is a lawyer, not a QC, and is a family friend, not an aunt."
The judge said Hutchinson was "unabashed" when he declared during the trial he had watched Fifty Shades of Grey while on remand and he had "no empathy" with the victims.
On his computer, police found material showing an interest in "force", "rape-type" behaviour and "violent sex".
Hutchinson had been accused of offences against four women last year. He was cleared of three other rapes, one attempted rape and six sexual assaults.