Fly-tipping: What you wanted to know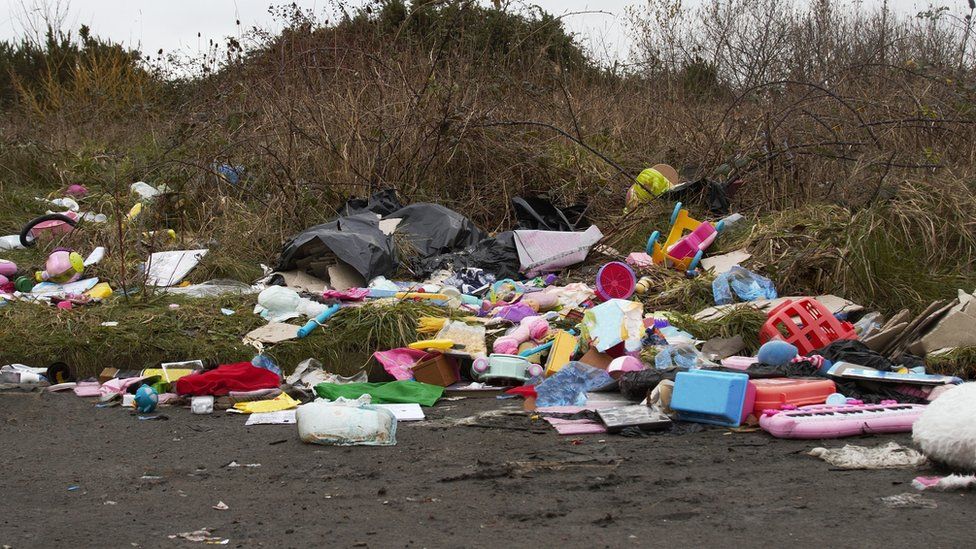 Piles of rubbish dumped across England have been reported to councils more than one million times in 2016-17. Here are some of the things you wanted to know about fly-tipping.
Where did the name fly-tipping come from?
Fly-tipping is defined as "the illegal deposit of any waste on to land that does not have a licence to accept it", according to Keep Britain Tidy.
The OED points to the term "on the fly" being used around 1851 to mean "on the move".
This saying coupled with the act of tipping something out created fly-tipping.
Where do I stand if someone fly-tips on my land?
If you keep detailed records of your disposal costs, they may be recovered if a prosecution is successful.
How many fly-tipping prosecutions have there been in England in the last year?
There were 1,602 prosecutions for fly-tipping in England in 2016-17. That was down from 2,135 the year before, despite the overall rise in incidents.
In total, 98% of prosecutions resulted in a conviction.
Councils also handed out 56,000 fixed penalty notices with a maximum fine of £400 in 2016-17.
Where does the £400 fine go?
For example, with littering the money has to be spent on tackling litter, dog control, graffiti and fly-posting.
However, fly-tipping costs councils and therefore the taxpayer a lot of money.
Enforcement cost councils £16.9 million in 2016-17. This was on top of the £57.7m spent cleaning up fly-tipped rubbish.
Why are there different scales of fine charges?
The different scales relate to the maximum sentences that can be imposed by the type of court.
Most fly-tipping cases would be heard at a magistrates' court where the greatest prison term is 12 months and the biggest fine £50,000.
The biggest financial penalty imposed by a court in 2016 was just over £25,500 to a meat and poultry business in Birmingham. That case was prosecuted at a magistrates' court.
The fixed penalty notice is a new power for councils that came into effect in May 2016. Councils can use these for small-scale fly-tipping and can decide the penalty within limits, depending on the severity.
The minimum is £120, but they have the power to demand up to £400. This is an alternative to going to court, which saves the council and the taxpayer money in the long run.
Is there a link between the amount councils charge for taking rubbish to the tip and the levels of fly-tipping in those areas?
The Local Government Association, which represents councils, said there was "no evidence" to link fly-tipping to any particular trend.
However, six of the 10 areas to have seen the biggest rises in fly-tipping in the last year do charge householders to take some types of rubbish to the tip, mainly building rubble, plaster and hardcore.
Tips in Fareham and Basingstoke and Deane, which come under Hampshire County Council, charge for plasterboard, soil and rubble. The areas saw the second and eighth highest rises respectively.
Craven in North Yorkshire, which saw the 9th highest percentage increase, also charges for hardcore, rubble, plasterboard and tyres while Ealing, the 10th highest riser, charges for DIY waste.
Newcastle-under-Lyme and South Staffordshire saw the third and seventh biggest percentage increase in fly tipping between 2015-16 and 2016-17, with incidents rising by 225% and 116%.
Both areas come under Staffordshire County Council which imposes charges for certain types of waste at tips.
Yet the council says the charges cannot be behind the rise because three other districts in Staffordshire saw a decrease in fly-tipping.
Gill Heath, the council's cabinet member for communities, said: "Newcastle and South Staffordshire have both changed the way they record incidents of fly-tipping and I believe those changes account for part of this increase."
Update 25 October 2017: This report has been amended to take into account corrected data from the Department for Environment, Food and Rural Affairs.