Friday 13th: Why it is lucky for some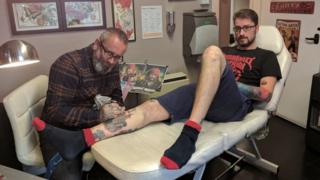 Friday 13th has a reputation for being shrouded in misfortune. So is it a date to approach with trepidation? Far from it, say these BBC News readers, who got in touch to tell us why it's actually their lucky day.
---
Tattoo time
"I love Friday 13th, I really look forward to it," Dunstan Dowling tells the BBC from a tattooist's chair in Ipswich, Suffolk.
"I've had my right leg tattooed every Friday 13th for the past five years."
This time around Mr Dowling has chosen a zombie Captain Jack Sparrow from the Pirates of the Caribbean films.
So why get inked with an undead Johnny Depp on Friday 13th?
"A lot of the tattoo community just choose Friday 13th as a good day," says the 28-year-old security guard, as needles buzz in the background.
"I'd love to get married on a Friday 13th and my partner and I have talked about both getting tattooed on our wedding day."
---
New Year baby delayed
Jason Garton's first baby was due on New Year's Day but instead arrived on Friday 13th January, 2012.
"It's always been a lucky day for us because that's when Abbie arrived," says the 43-year-old, from Telford, who works as a police officer in Wolverhampton.
"This year was her first Friday 13th birthday.
"We said to her if school say it's an unlucky day say 'no for me it's a good luck day'."
---
Happy memories
"Today is a really happy day for us because it's the start of our 16th wedding anniversary weekend," says Sarah Pamment, from Weymouth in Dorset.
Mrs Pamment fell pregnant while engaged to husband Mike and their family asked if they were going to bring the big day forward.
"But we said 'no, we will still get married on the day we planned'. We just didn't know whether we would have a bridesmaid or a page boy.
"And in the end we had the most beautiful bridesmaid, Maisie, who will be 18 in March."
Mrs Pamment, who has epilepsy and had to undergo brain surgery, says her husband is "the most supportive person I could ever wish for".
"I feel so blessed because Maisie is just as caring and has so much of his character."
---
Good omen
Sharon Weston says she believes Friday 13th is a "good omen" after passing her driving test at the first attempt on that date in 1989. Now she lives at number 13.
"When the date came through I thought I might cancel," says the 60-year-old from Ramsgate in Kent.
"I'd lost my nan and I had her little Bible with me. She was really spiritual and I feel she was with me.
"When I saw my house was number 13 I thought 'that must be a good omen'.
"So it's become lucky for me really."
---
A lucky charm
Jean Baxter's father Alan Merton carried a number 13 from the side of a barn with him throughout World War Two.
"He came home safe and sound and insisted it kept him alive," says the retired carer, 52, from Newmarket in Suffolk.
"He sadly passed away in January - he was 94," she adds.
"A few years ago he was awarded the Legion d'Honneur and he was very proud of it.
"Today we see the number 13 everywhere and today makes us think of him. We've even bought lottery tickets including 13."