MPs urged by families to help Britons jailed in India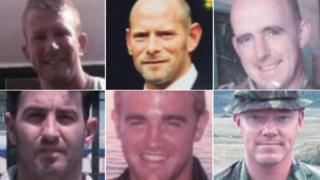 Relatives of six British seamen jailed in India four years ago have lobbied MPs to demand the government do more to help secure their release.
The six were arrested in October 2013 for taking weapons into India's territorial waters. They were convicted and jailed for five years in 2016.
The men deny any wrongdoing, saying the weapons were properly licensed.
A 405,000-signature petition calling for the "wrongly imprisoned" men to be freed has been handed in at Number 10.
Indian coastguards boarded their vessel, the MV Seaman Guard Ohio, while the men were working as security guards to combat piracy in the Indian Ocean.
Charges against them and 29 other crew members were initially quashed when the men argued the weapons were lawfully held for anti-piracy purposes.
However, a lower court reinstated the prosecution.
The British men - all former soldiers - are:
Nick Dunn, from Ashington, Northumberland
Billy Irving, from Connel, Argyll
Ray Tindall, from Chester
Paul Towers, from Pocklington, East Riding of Yorkshire
John Armstrong, from Wigton, Cumbria
Nicholas Simpson, from Catterick, North Yorkshire
Billy Irving's fiancee, Yvonne MacHugh, from Paisley, said their two-year-old son William had not yet spent a day at home with his father but had been to visit Mr Irving in India three times.
She said the government's efforts "aren't good enough", adding: "I want them to openly say 'We know the men are innocent, release them now'. "And fight for them."
She said the couple had planned the wedding for May 2016 when they thought he would be home.
"I just want it to happen tomorrow, and not in five years time," she said.
"We just know we have to do something, and we're trying to do everything we can to bring him home."
Ms MacHugh added that her fiance writes bedtime stories to their son which she reads to him at night.
Joanne Thomlinson, the sister of John Armstrong, said: "My five-year-old son hasn't seen his uncle John since he was a baby, he only really remembers him from pictures.
"My brother tries to take one day at a time, he spends his days walking, he's learning a foreign language, that's how he gets through each day, he gives himself little milestones."
Prime Minister Theresa May has raised the matter on a visit to India and Britain's High Commissioner in India has visited the men in jail in Chennai, but the families say Foreign Office diplomacy is not working.
Speaking to the BBC Victoria Derbyshire programme, Mrs Thomlinson added: "We know they've raised this case over 50 times at ministerial level with Indian counterparts, but we want them to put more pressure on in these discussions."
Lawyer Stephen Askins, who represents the imprisoned men, said: "It is extraordinary that it is the fourth anniversary of the arrest and the initial detention of these men.
"I can't believe that any of us would have thought we would still be here, four years later, dealing with this."