Respiratory RSV vaccine to be trialled on unborn babies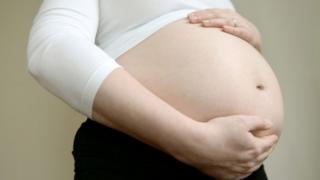 A new vaccine aimed at protecting babies against a virus that can cause deadly respiratory infections is to be clinically trialled in the UK.
Pregnant women in Southampton, London, Bristol and Oxford will be the first in the world to take part in the testing of the vaccine.
It aims to prevent respiratory syncytial virus (RSV) that causes about 30 baby deaths a year in the UK.
The virus can cause severe infections in lung and breathing passages.
It can affect people of all ages but affects almost all infants by the age of two. It often causes only mild cold-like symptoms in young adults and older children.
The virus causes epidemics responsible for up to one in six hospital admissions in children less than a year old every year, the University Hospital Southampton NHS Foundation Trust, which is leading the trial, said.
It can also lead to the long-term development of persistent wheezing and asthma.
'Could save lives'
The trial, funded by Novavax and the Bill and Melinda Gates Foundation, is being run at Southampton's Princess Anne Hospital, the John Radcliffe Hospital in Oxford, St Georges NHS Foundation Trust in London and Bristol Royal Hospital for Children.
It will involve between 4,600 to 8,600 women.
A spokesman for University Hospital Southampton NHS Foundation Trust said: "The vaccine is designed to generate proteins in the mother's blood - known as antibodies - which can pass to babies in the womb and, once born, hopefully protect children for a minimum of three months."
Dr Chrissie Jones, a consultant in paediatric infectious diseases at Southampton Children's Hospital, said: "RSV is the leading cause of hospitalisation in young children and globally millions of children are affected by RSV every year."
She added a successful vaccine could save hundreds of thousands of lives.