Just For Pets jobs saved with Pedigree Wholesale deal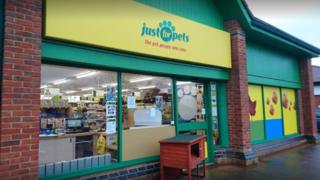 More than 100 jobs have been saved following a takeover deal at a collapsed pet shop chain.
Bosses at Just for Pets, which has 25 stores across England, announced it would go into administration in September.
Pedigree Wholesale has since bought up the company for an undisclosed sum.
The acquisition will see 18 out of the 25 stores continue operating - securing 180 jobs.
The locations set to continue operations include stores in Bristol, Cambridge, Coventry, Telford, Wolverhampton, Worcester and Nuneaton.
However, Pedigree said it had decided "with regret" to close seven sites in Northampton, Reading, Wellington and Nottingham, Bessie & Boo (Evesham), Burton upon Trent and Yardley.
About 60 employees have been notified and issued with redundancy notices by the appointed administrator, nearly a month after its previous owner Wynnstay Group announced the chain's collapse.