House prices - has the home ownership dream soured?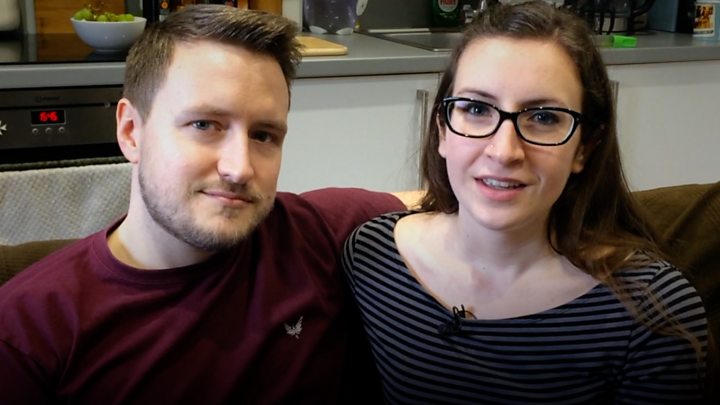 "Trapped" and "frustrated" - This is how people describe being unable to sell homes whose values have yet to recover from the financial crisis that started more than a decade ago.
House prices are lower in real terms than they were in 2007 in more than half of England and Wales, according to analysis for BBC News.
Those who wish to sell can find themselves with a home worth less than they paid for it, particularly in northern England.
In the areas where values have continued to rise buyers are finding it impossible to find an affordable home, particularly in London and the South.
But what is it really like for those of us trying to get a step on the property ladder or move?
'I feel trapped'
The large number of for sale signs and boarded up homes tell the story of a depressed sales market in Horden, County Durham
The former mining community is not attracting buyers or investors and house values, when adjusted for inflation, have fallen by about 57%.
Lee Percival paid £112,995 for his home on a newly built estate in 2007.
The estate has never been finished due to the financial crash and his home has dropped in value by about £30,000.
"I regret buying it at the time we did, my wife loves it here, but I just feel - well we have made a loss haven't we?
"Yes, I feel trapped."
Mr Percival admits if he had to move it would be hard to sell.
"We could lose more than that, we might have to take less than that for it.
"I know I could never sell it at the moment."
Value drop 'frustrating'
In parts of Bradford values have crashed by up to 50% in real terms and one of those who have found themselves with a house worth less than it cost is Isaac Stott.
The charity worker bought his home in 2007 and paid £86,500 for it.
"Everything was going really well it looked like a good investment but within nine months the property value dropped to around £35 to 40,000."
He said the market has improved but his three-bedroom home is on the market for £76,500 - £10,000 less than he paid.
"It is frustrating to see how much it has dropped and how much it is worth.
"My sister in Kent lived in a very small house and she just sold that for just over £250,000 and it is like - great."
Isaac and his wife admit trying to sell and the potential financial loss is worrying.
"It has taken up space in our life. I can find myself coming home and thinking 'Oh I wish we had sold this'.
"It weighs on my mind."
Why such a contrast?
Lucian Cook, residential property research director at Savills, said one of the principal reasons for the stark regional differences is economic.
"What you have is a two speed-economy much more weighted to London and the south leaving a lot of the north behind.
"What that tends to mean is there is much greater population pressure in the south and as a result you have much greater shortages of house building which has pushed prices up in a way that hasn't happened in the north."
He said the disparity means homeowners in northern England, who have bought since 2007, have not seen significant growth in prices.
"That makes it very difficult for you to accumulate equity in the house that you own and in turn that makes it difficult to trade up the housing ladder unless you have managed to pay off a very significant amount of your mortgage."
'Good return'
Bank Hall, Burnley, has seen prices drop by about 53% in real terms in 10 years but investor Indinar Madhar is not concerned.
"I think there was a bubble that burst around 2007/08.
"I've bought and kept them, I do it purely for rental income and I don't see myself selling.
"People are happy to pay about £40,000 in this area. I have another house I bought in this area for £42,000 and I'd be lucky to get £40,000 so it's not worth my interest to sell."
She said she bought because the 15 houses were cheap and has no regrets.
"It made sense for me to buy cheap houses and charge rent and get a good return on my investment for my rent so that's why I did it."
She also says businesses in the area are encouraging more people to live in Burnley, in particular major employers.
"That's one thing about Bank Hall, it's so close to the facilities of the town. You should expect for it to have a price tag on it. Maybe in time it will turn that corner."
'Silly money'
For Neil Potter it is a different problem.
He rents a three-bedroom house in Halberton in Devon because he says it is still far too expensive for him to buy.
"We rent our house - we can't get on the market because we've got three kids and to buy a four-bed, you're looking at £330,000... house prices in Devon and this area are quite expensive."
Values have fallen in Halberton, by more than 40% in a decade, the largest drop in the South West; but that brings little comfort for Mr Potter.
"We've been here 12 months - we rented in Tiverton before.
"That was a four-bed and to buy that, it was about £260,000. The three-bed we're renting in Halberton is worth around £330,000 - silly money."
Long-term residents in the area were surprised to learn values had dropped in real terms.
Heather Adwick has lived in the village for 39 years and said she did not think the village was a cheap place to buy.
"I didn't think the prices had gone down because we're amazed by one house - a cottage - on the main road which is up for £410,000.
"I can't believe it - we're always amazed by how much people are putting them up for."
Where have house prices changed most?
Sorry, your browser cannot display this map