Yorkshire devolution: Archbishop asked to help in stalemate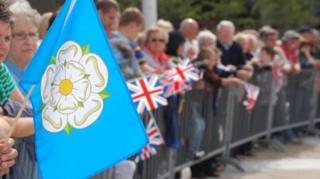 An MP has appealed to the Archbishop of York to help end a political stalemate on Yorkshire's devolution process.
Despite a range of proposals, councils have so far failed to agree a pan-Yorkshire deal to gain devolved powers.
A separate devolution plan for South Yorkshire has stalled after half of the councils involved voted against it.
At a parliamentary debate, Labour's John Grogan said he has written to John Sentamu asking him to consider calling a meeting of those involved.
Devolution delays: What's going on?
The Archbishop's office confirmed it had received the letter and Dr Sentamu would be consulting with council leaders from across the region.
More on this and other stories in Yorkshire
During the short House of Commons discussion, communities minister Jake Berry said it was "absolutely clear" there is no agreement around the so-called 'One Yorkshire' deal.
The Conservative MP said the party was pushing ahead with selecting a mayoral candidate for the Sheffield City Region and railed against those trying to "undermine" the South Yorkshire option.
'Strong, elected voice'
The £900m Sheffield City Region proposal aims to give South Yorkshire similar devolved powers to Manchester and the West Midlands under an elected metro mayor.
A deal collapsed in September after the leaders of Barnsley and Doncaster councils voted against it, with a Yorkshire-wide deal their preferred option.
The One Yorkshire proposal, first outlined in August, initially had the backing of 17 of the 20 local authorities in Yorkshire. Despite this support, it has so far been rejected by the government.
Mr Berry said: "We understand the challenges South Yorkshire faces, we believe that an elected mayor can give South Yorkshire the leadership that they clearly need, and we will work with them whoever they may be."
Mr Grogan told the debate: "We need a strong, elected voice - a champion for the whole of Yorkshire - as our business, as our economy, faces up to the challenges of Brexit."
He continued: "I can say tonight I have written ... to the Archbishop of York asking him to consider calling a meeting of all those involved in the devolution process to try and make some progress, which the people of Yorkshire sorely need."