Pete Waterman's Jaguar E-Type could fetch £150,000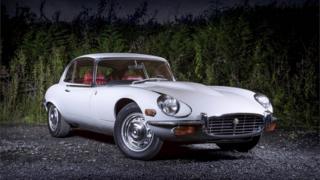 A rare Jaguar E-Type owned by music producer Pete Waterman for some 30 years is to be auctioned.
Mr Waterman said he had restored the "absolutely stunning" car and had only driven it twice since buying it in the late 1980s.
Auctioneer H&H Classics said it was the first car of the Series III made and could fetch between £100,00 and £150,000 next month.
"It's such a rare car, people did wonder where it was," a spokesman said.
The firm, which is selling the car at the Imperial War Museum Duxford on 15 November, said it had been referred to as a "ghost of an E-Type" by Jaguar Enthusiast magazine because it was presumed lost.
Enzo Ferrari, founder of the Italian sports carmaker, reportedly called the E-Type "the most beautiful car ever made", when it was unveiled by Coventry's Jaguar Cars in 1961.
Mr Waterman, who has produced more than 20 UK number one singles, said he was now an "older, maturer" driver and sought a more practical ride than classic sports cars provide.
"I am 70 now and they are not easy to get into," he said.
"It is better if the car can be enjoyed by a younger driver - it's not for an old man."
Mr Waterman built up a collection of 45 vehicles containing "every type" of Jaguar, but the original E-type is the last one he has held on to, he said.
"I was born in Coventry and you can't be born in Coventry and not love Jaguars," he added.
The producer, who has worked with artists including Bananarama and Kylie Minogue, added the car had been stored and was not modified.
The Jaguar E-Type was designed by Malcolm Sayer who died in 1970, aged 53.