Train in 125mph 'near miss' with railway workers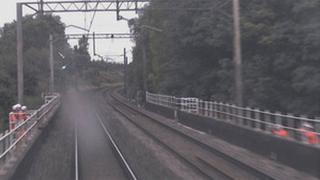 Three railway workers narrowly avoided being hit by a train travelling at 125 mph (200 km/h), the Rail Accident Investigation Branch (RAIB) has said.
The organisation said there had been a "near miss" on 18 September on the Dutton Viaduct in Cheshire.
The line-side workers "managed to move clear of the track less than half of a second before the train passed them", the RAIB said.
No-one was injured but the train driver was "shaken by the incident", it added.
The near miss occurred with a southbound Virgin train between Runcorn and Crewe at about 17:00 BST.
The RAIB said it had undertaken a preliminary examination and would a publish a comprehensive report with their findings in the next few months.