Care homes places 'crisis' in five years across England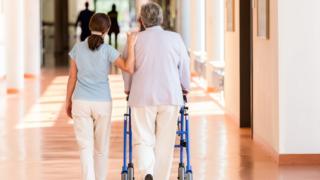 Almost nine tenths of England faces a "crisis" in care home places within five years, new research suggests.
Consumer group Which? said "urgent action" was needed because of a rising population of older people.
England has 407,000 care home beds but would need another 50,000 by 2022 to meet demand.
Health secretary Jeremy Hunt said he was "addressing" the issue and £1bn was invested in 2017.
Bracknell Forest in Berkshire is expected to have the biggest shortfall, with 53% more care places needed by 2022 than were in place by 2017.
The analysis of care home data across England indicates 87% of local authorities will not have enough places to care for more people aged 80 and over.
There were 407,000 beds across England in care homes for the elderly as of 2017 and this is expected to rise to 416,000 by 2022. However, Which? says to meet demand there would need to be almost 458,000 places.
The problems are "systemic" and as it can take up to seven years to plan and build a new care home, the sector "won't be able to meet the growing need of the country's ageing population", Which? said.
Which? spokesman Alex Hayman said it was "vital" the government looked at the "huge local disparities" before the system reached "crisis point".
"It's heartbreaking that families who have no choice but to move a relative into care then have the additional stress of not knowing if they can find a space in a suitable home that's close to loved ones," he added.
Asked about the findings by BBC Radio Berkshire, Mr Hunt said: "There are real pressures on the social care system throughout the country, but particularly in places like Bracknell and the South East where the cost of land is very high and makes it difficult sometimes for operators to open up new care home businesses.
"We are addressing that. We put an extra £1bn into social care this year so every local authority in the country has more money to spend."
Councillor Dale Birch, Bracknell Forest Council's lead member for adult services, said the council was joining up with neighbouring authorities to help deliver social care.
He added that a "whole new style of future care" was being developed which would see residential care homes providing a wide range of services.