Rail strikes continue to hit services across England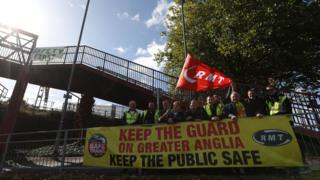 Rail strikes across England are continuing to leave passengers facing widespread disruption and delays.
RMT union members at Southern, Merseyrail, Arriva Rail North and Greater Anglia walked out at 07:00 BST and plan another strike on Thursday.
South Western Railway staff have now also voted to join the strike, becoming the fifth rail operator to become involved in the dispute.
The industrial action is over plans to make train doors driver-only-operated.
Rail companies have said this means a guard is no longer needed to ensure the doors are closed but some workers believe safety procedures would be compromised.
A separate strike by drivers on London's Tube about shift patterns, which was due to happen on Thursday, has now been called off.
The RMT said South Western, which took over from South West Trains in August, had failed to give "cast-iron assurances" over the future of guards on all of its trains.
The firm said it was "disappointed" at the ballot result, while the union's general secretary Mick Cash said members "are standing absolutely rock solid and united" and "the public and workplace support... is nothing short of fantastic".
The strikes have coincided with a planned closure of Liverpool Lime Street for refurbishment, something the boss of Merseyrail, Jan Chaudhry-van der Velde, said "doubled up the inconvenience".
Southern's passenger services director Angie Doll said: "The RMT is striking about changes we made almost a year ago as part of our modernisation programme.
"Nobody has lost their job over this, in fact we employ more on-board staff to help passengers than we did before, and we are providing a better service with fewer cancelled trains."
Northern Rail's regional director, Sharon Keith, said she wants to work with the unions.
"We're in the middle of a large modernisation agenda so we're investing in new trains [and] refurbished trains and what we want to do with our people is to modernise that role."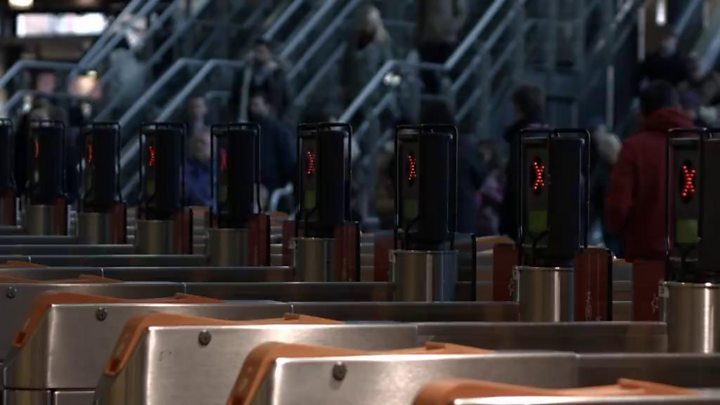 Mr Cash, from the RMT, said rail companies were frustrated at being used as "political pawns", while rail minister Paul Maynard accused the RMT of "using passengers as pawns in their political game".
"This dispute is not about jobs as all the companies have guaranteed posts and I have been clear I want to see more people working on the railways, not fewer," Mr Maynard said.
"It's not about safety either as the independent regulator has ruled that driver-controlled trains are safe."
The strikes are having a knock-on effect on other services, with TransPennine Express reporting passenger complaints about "dangerously full" trains.
Greater Anglia is attempting to run a full service, and Southern said it would attempt to run a normal service on most of its routes.
Arriva Rail North says it will run about 1,200 services across the north, 46% of its normal timetable, on both days between 07:00 BST and 19:00 BST.
Most Merseyrail services will run between 07:00 and 19:00, with a break during the middle of the day, and some stations will be closed.