Smash and grab raids at London designer stores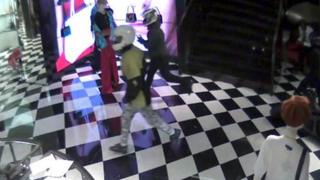 Detectives are hunting a moped gang wanted in connection with a series of raids at designer stores in London.
In a raid at Prada in Old Bond Street, a security guard was beaten after the gang broke in by driving a scooter through a large display window.
The thieves have made off with designer handbags, clothing and other items.
Fendi, Miu Miu, Hugo Boss, Browns, and House of Fraser stores have also been targeted by the gang.
---
'Smash and grab' raids
5 September: Seven raiders smashed their way into Fendi store in Bond Street and stole handbags and purses worth over £200,000
21 September: Handbags worth over £100,000 were stolen in a raid at Prada, Bond Street
25 September: Police called to Miu Miu, New Bond Street and likely disturbed thieves who had damaged the shop front but failed to break in
26 September: Windows smashed at Hugo Boss clothing store and more than £10,000 of goods stolen
27 September: Rear doors of Browns Ltd in South Molton Street forced open with more than £10,000 of goods stolen
2 October: Gang tried to smash window of Mulbery in New Bond Street with a claw hammer, but failed to gain entry
---
Det Con Paul Clarke said: "As well as the criminality of the burglaries, our concern is also that they have not hesitated to use violence to ensure their raids remain undisturbed.
"These smash and grab attacks last only a few minutes but are committed by individuals who are carrying weapons including axes, knives and crowbars."