Monarch Airlines: Holidaymakers and staff 'devastated' by airline collapse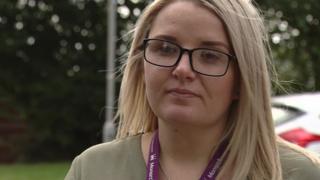 Holidaymakers and airline staff have been left "devastated" by the collapse of flight operator Monarch.
Hundreds of people arrived at Leeds Bradford, Gatwick, Birmingham, Luton and Manchester airports to find their flights had been cancelled.
Cabin crew member Natasha Slessor was one of nearly 1,900 staff made redundant on Monday.
"How can you wake up and not have a job?" she said. "I still can't believe it really."
Monarch collapse: Latest updates
Flights axed as Monarch ceases trading
Ms Slessor said she was keeping positive about her future.
"I love this job, I love my career," she said.
"I was hoping I would progress further and do it forever but I'm young enough to get another job. I will. I'm certain of that."
Ms Slessor said she was due to go on maternity leave and was worried for her colleagues.
"There's other people in this company who won't be so lucky and they've given their heart and soul to Monarch," she said.
Monarch had employed about 2,100 people. Administrators said 1,858 staff had been made redundant, with the remaining workers helping to bring back 110,000 Monarch holidaymakers from overseas.
'Sky sisters'
Flight attendants Katie Leary, Kate Halbo, Debbie Jackson and Charlie Winter have worked for Monarch for 19 years and call themselves the "sky sisters".
It was more than just a job, it was "a way of life", they said.
The friends said they felt sorry for the customers who were stranded abroad and it pained them they could not be there to bring them back home.
Passenger Steve Walker said he was "gutted" he would miss defending his World Masters Powerlifting title in Sweden.
The 61-year-old from Hardingstone, Northamptonshire told the BBC he was off to compete in the 74kg Masters three class in Sundsvall on Tuesday.
He was on his way to Luton airport when he got a text from a friend at 04:30 BST telling him all Monarch flights were cancelled, he said.
"I'd been training for this for three months and this championship was supposed to be my last."
He added: "I've just had to cut my losses. I'm absolutely gutted. The competition will be streamed live online, but I don't want to see it. I don't want to watch a competition I should be in."
---
Advice to Monarch customers
Customers in the UK yet to travel: Don't go to the airport, the CAA says.
Customers abroad: Everyone due to fly in the next fortnight will be brought back to the UK at no cost to them. There is no need to cut short a stay.
Those with flight-only bookings after 16 October are unlikely to have Atol scheme protection, so will need to make their own arrangements.
Customers currently overseas should check monarch.caa.co.uk for confirmation of their new flight details - which will be available a minimum of 48 hours in advance of their original departure time.
The CAA also has a 24-hour helpline: 0300 303 2800 from the UK and Ireland and +44 1753 330330 from overseas.
---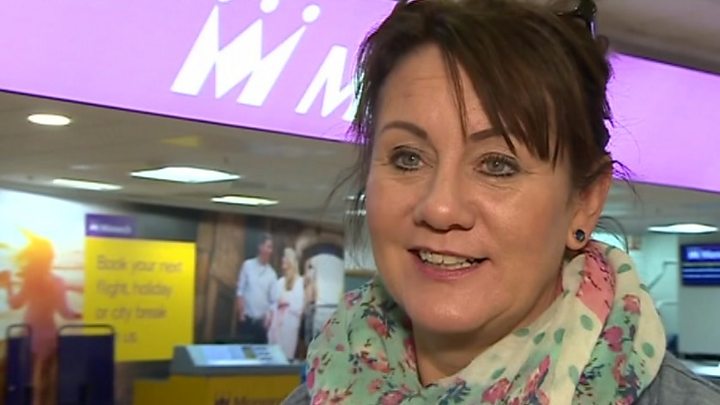 Jenny Collin from Colchester was ready to fly from Luton to Barcelona with her husband for their golden wedding anniversary celebrations.
"We've got two cases all packed up ready to go," she said. "I just feel devastated and let down.
"It's just made me sick. I won't trust a travel company again."
Alan Jee was due to get married in Gran Canaria on Saturday and arrived at Gatwick Airport with 30 members of his family.
"I have spent £20,000 on my wedding and now I can't even go and get married," he said.
"I am gutted, absolutely gutted, and my missus is in tears, an emotional wreck."
About 250 passengers turned up Leeds Bradford Airport to find flights cancelled.
Phil Morcom from Leeds said: "Myself, my wife and my daughter were going to Dubrovnik for my niece's wedding on Wednesday.
"We are probably not going now but are busy scouring the web. We were not Atol-covered and had bought flights only so will lose the money it seems."
Manchester Airport said a "few hundred" people turned up for Monarch's early morning flights.
Denise Parry, 51, from Salford, said she had "thrown up with the stress of it all".
"We got to the airport at 03:00 and it was at 04:00 while we were in the queue that we found out," she said.
Ms Parry and her partner initially booked alternative flights to Dalaman with Thomson later on Monday but she was later told no more places were available on the plane.
"It is so annoying, we have had the holiday booked for 12 months. We're going home now," she said.
Ricky Lal, Tony Lal and Steven Singh were travelling to Birmingham Airport for their flight to Barcelona when they received a text from Monarch at 04:09.
"No one's told us anything, just given us these leaflets with no information," said Mr Lal.
The trio are now booked on another flight but say they are "frustrated" as they are out of pocket.
Anne and Barrie Chittenden from Nottinghamshire and Walters and Cathy Flanagan from Hartlepool were off to Lisbon for six nights.
They saw the news on Twitter at 04:30 while they were on the bus to Birmingham airport and have not heard from Monarch.
They said they were in "good spirits" and would sit it out to see what happened.
'No-one worried'
People due to return to England on Monarch flights have started to arrive back on planes drafted in from other airlines.
Joe Simon flew from Palma, Majorca, to Manchester and said he found out about Monarch's collapse from the taxi driver taking him to the airport.
"When we got there it was all normal, everyone seemed to go with the flow and no-one was worried," said Mr Simon from Bagillt in North Wales.
"When we got off the pilot said if passengers were going to Leeds and Gatwick, people would help them in the airport."