Private Ambulance Service faces winding up notice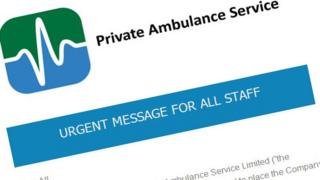 A private ambulance service which has contracts with a number of NHS and private health organisations faces a winding up notice.
Essex-based Private Ambulance Service (PAS) has more than 100 vehicles and employs 300 people.
The winding up notice has been lodged by the Inland Revenue and will be heard at the High Court in October.
Managing Director James Barnes said PAS is working with the NHS to maintain transport to ensure patient safety.
The firm will stop trading on 9 October.
PAS has been serving Lister Hospital, Watford General, St Albans Hospital, the Luton and Dunstable Hospital and Bedford Hospital.
A spokesman for the Bedfordshire, Luton and Hertfordshire Clinical Commissioning Groups said: "The next step is for NHS clinical commissioning groups... to appoint an organisation that can provide transport for our patients.
"We are in discussions with a number of providers to understand what services can be provided quickly and safely."
In his message to staff, Mr Barnes said: "I am writing to notify you that Private Ambulance Service Limited has instructed Greenfield Recovery Limited to place the company into administration.
"Our commissioners are taking steps to ensure that the employment of staff within the service will be transferred to another service provider based on the current contracts on which they are engaged."