Eight areas selected to host 2018 Tour de Yorkshire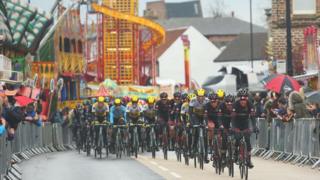 Eight locations have been selected to host the starts and finishes of the 2018 Tour de Yorkshire cycle race.
Barnsley, Beverley, Doncaster, Halifax, Ilkley, Leeds, Richmond and Scarborough have all been chosen. The routes are due to be announced on 5 December.
Richmond in North Yorkshire will feature for the first time having not previously hosted the race or seen it pass through the town.
The 2018 race has been extended to four days and will be held from 3 to 6 May.
The women's race will also double in length from a one-day event, taking place on 3 and 4 May.
The Tour de Yorkshire was launched in 2015 following Yorkshire's successful hosting of the 2014 Grand Depart leg of the Tour de France.
The first stage of the 2017 men's race started in Bridlington and finished in Scarborough.
The event was watched by an estimated 2.2m people, generating £64m for the local economy.
Sir Gary Verity, chief executive Welcome to Yorkshire, which organises the event with Amaury Sports Organisation, said: "The Tour de Yorkshire is a true success story and in just three years it has grown to become one of the best attended and most dramatic races on the cycling calendar."