Maternity unit: Your questions answered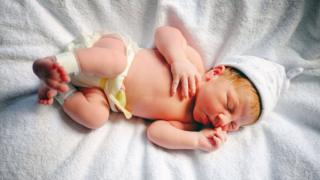 September is the busiest month for England's maternity wards, according to hospital figures.
BBC News is reporting live from the maternity unit at Ipswich Hospital where staff expect between eight to 11 births by the end of the day.
You have been sending in your questions about life on the ward, from how to become a midwife and shift lengths to traumatic births.
Here are some of the answers staff at the hospital have given.
---
How do you become a midwife?
Helen Smith, a consultant midwife at Ipswich Hospital, said after gaining three A-levels or the equivalent you need to apply for a midwifery course at university.
"It's a three-year course where you will do academic and practical work to learn about all the different aspects of this fabulous job," she said.
The UCAS and Royal College of Midwives websites have useful information.
---
How long is a shift on the ward?
"Our shifts are mostly 12 hours in the birthing areas," said Mrs Smith.
"Some of our staff that work in clinic will work a more regular day.
"We work days, nights, weekends, Christmas. It's a 24/7 service."
---
What support is there in place for women who have suffered traumatic deliveries or birth injuries?
The hospital offers a birth reflections debriefing service where women can find out more about their labour, Mrs Smith said.
"We also have our birth choices clinic to help make a plan for the next birth.
"It's about listening and empowering women to make sure they've got good evidence to base their future decisions on."
---
How do staff feel maternity care could be improved post-birth?
Introducing overnight stays for partners has improved feedback at the hospital, said Sharon Edwards, lead midwife on the Orwell post-natal ward.
"The staff-patient ratio is something we're constantly looking at to ensure that women get the best care," she said.
"Obviously the lower that is, the better."
She encouraged patients to talk to staff about their experiences - good or bad.
"I'm available five days a week to listen to anyone's feedback and to add extra support to patients," she said.
"If we don't know what the concerns are we can't do anything about it, so please tell us."
---
What is the best advice you can give to grieving parents who find out their baby has stopped developing during pregnancy?
"We try to make sure parents have as much support and help as possible," says Ali Brett, a midwife employed at the hospital to help parents suffering a bereavement.
She says she works closely with various charities and counselling services, including Petals and the East Anglia's Children's Hospice,
"I visit women and listen to them. I discuss regularly with the consultants so we can answer any questions," she says.
"We invite the families back after eight weeks so we can discuss events, any test results, post-mortem results and then make a plan for the next pregnancy and make sure they are physically and emotionally cared for.
"There are various websites where people can find support, including Sands, The Miscarriage Association and many others."
Head midwife Alison Littler, said: "Many women who have stillborn babies go on to have healthy babies later in life, with the support of our team of midwives, and we are here to help them every step of the way."
---
What support and advice is available if breastfeeding is not going well?
Community midwives and maternity support workers are all qualified to help women with breastfeeding, said Ms Littler.
If mothers have been discharged from the community service they can seek support from their health visitor, she said.
"We've got an infant feeding specialist midwife here who can be contacted for additional support if needed," said Ms Littler.
Children's centres also run breastfeeding support groups and there are national phone support lines offering advice.