North East illegal dumped waste clean-up bill £750,000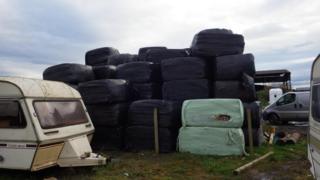 Illegally dumped waste cost land owners in north-east England £750,000 to clean up last year, the Environment Agency (EA) has said.
Removing thousands of tonnes of baled waste costs more if land is contaminated, it said.
EA area manager Jamie Fletcher said criminals were "offering to remove waste cheaply and then dumping it in fields or empty warehouses".
There are about 4,000 empty commercial properties in the region, the EA said.
Businesses and individuals had a responsibility to "manage their waste responsibly, preventing it from getting into criminal hands in the first place", Mr Fletcher said.
They also had to make sure any tenants complied with regulations, he added.
Separately, Durham County Council is threatening to seize vehicles believed to be used for flytipping or disposing of waste without a licence.
Flytippers can be issued with a £400 fixed penalty notice while large-scale waste offences can lead to an unlimited fine or imprisonment.