Henry Moore sculpture Old Flo leaves Yorkshire for London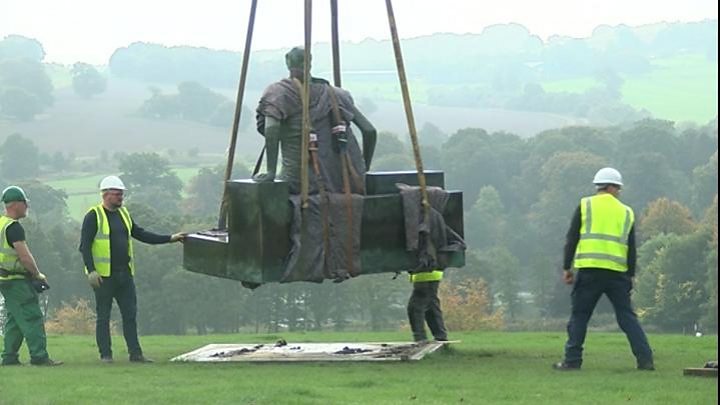 A Henry Moore sculpture that has been on display in Yorkshire since 1997 has started a journey back to London, its original home.
Draped Seated Woman, also known as Old Flo, was lifted off a plinth at the Yorkshire Sculpture Park by a crane.
It was loaned by the London borough of Tower Hamlets when the housing estate, where it had been situated since 1962, was demolished.
Old Flo is to return to Tower Hamlets in Cabot Square, Canary Wharf.
The sculpture was at the centre of a dispute in 2012 when the former mayor of Tower Hamlets Lutfer Rahman wanted to sell it due to "government cuts".
The council eventually decided against selling the piece, which is worth millions of pounds, after strong criticism.
It is to be positioned in Canary Wharf from October but before its return to the capital it will go into a workshop for renovation.
Moore was born in Castleford, West Yorkshire in 1898 and died in 1986. He sculpted Draped Seated Woman in 1957-8 and sold it to the London council in the 1960s for less than the market value.
He had intended Old Flo to stay on display in the borough as it was one of several of his artworks he sited in new towns and housing estates built following bomb damage from World War Two.
Peter Murray, of Yorkshire Sculpture Park, said: "We are sad to say goodbye to Old Flo but pleased the sculpture will continue to be on public display in its new Cabot Square home."
The park, near Wakefield, was founded in 1977 now covers 500 acres and attracts more than 500,000 visitors each year.