Amputee teen racer Billy Monger set for charity walk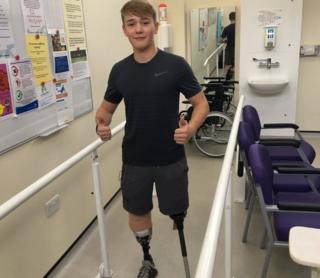 A teenage racing driver who lost the lower part of both his legs in a crash is preparing to walk round part of the Brands Hatch circuit for charity.
Billy Monger, from Charlwood in Surrey, hit the back of a stationary car at Donington Park on 16 April - three weeks before his 18th birthday.
The Formula 4 driver had to have both legs amputated and spent nearly a month in hospital recuperating.
He said Saturday's walk would enable him to share the progress he had made.
"It's time for me to give back... without the help of the incredible team of medics and the air ambulance I most likely wouldn't be here today," he said.
The teenager said he was aiming to walk "the length of the entire pit lane" at the Kent circuit on Saturday - where the Dunlop British Touring Car Championship finale is taking place - starting at about 18:00 BST.
Funds raised will go to the air ambulance service.
Writing on his Facebook page, he said: "I feel that for all the support I've been shown in the past few months I want to share my progress with you guys for an amazing cause."
In July, just 11 weeks after the crash, he returned to the cockpit of a specially adapted racing car.
He was assisted by Team BRIT, which helps disabled drivers and injured servicemen to compete in motorsport.
At the time, he said his ambition was to compete in the Le Mans 24 Hours with Frenchman Frederic Sausset, who lost both arms and legs through an illness.