Ex-Premier League player Sam Sodje's fraud trial collapses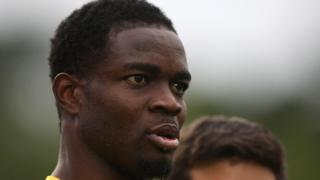 The trial has collapsed of a former Premier League footballer accused of helping launder cash in an £80,000 international fraud operation.
Sam Sodje was on trial with his brother and two other men, all allegedly involved in channelling proceeds of a scam to target companies in Colombia, India and Abu Dhabi.
The Old Bailey case continued for three weeks but was halted as Mr Sodje, 38, gave evidence in his defence.
The men denied all the charges.
At the latest hearing, Judge Georgina Kent discharged the jury in the case for legal reasons.
Mr Sodje played as a defender for a number of clubs during his career, including Reading, Brentford and Charlton, as well as representing Nigeria at international level.
He had been in court with his brother Efe Sodje, also a former footballer who played for clubs including Huddersfield and Bury, and two other men - Emmanuel Ehikhamen and Andrew Oruma,
His other brother Akpo Sodje, who was also accused of money laundering, now lives in Dubai and declined to return to Britain to be interviewed by detectives, jurors heard.
A date for a retrial is expected to be decided at a hearing on 29 September.