Home Office delays: 'It's a form of torture'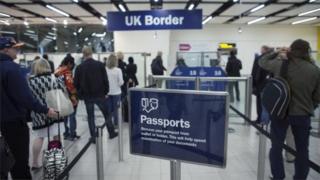 A woman who says she has been waiting more than a year for a decision on her UK residency application claims "surviving is difficult".
Nicky, who did not want to give her real name, originally applied in June 2016 and paid £2,500 for an expedited service.
The 32-year-old from Northamptonshire said she was refused over a tax query. However, she says she has sent documentation to explain the discrepancy and paid another £2,000 but has been waiting over a year for a decision.
Because of the rejection, she cannot prove she has a legal right to work in the country and, although she has lived and worked in the pharmaceutical industry in the UK for nine years, she is now dependent on handouts from friends in Daventry.
'Suicidal thoughts'
"I am under extreme mental stress because I cannot work and I have no right to rent," she told the BBC.
"The Home Office is trying to torture people slowly by keeping them waiting for more than a year in a hostile environment, treating us like criminals.
"Sometimes this stress leads to suicidal thoughts for people.
"I haven't received any communication or explanation regarding the delay of my application from the Home Office.
"My parents back in Mumbai aren't well and I haven't seen them for two years.
"I was here working to produce anti-cancer drugs so I feel like I am contributing but I am being treated like I am here illegally."
The Home Office said complex cases took longer to process.