Baby names: The stories behind what you are called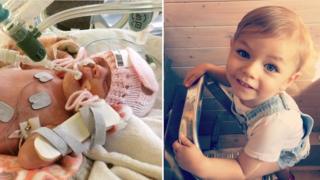 As a list of the most popular baby names in England and Wales was released, our readers shared the stories behind their own names.
"When my baby was born she was poorly in a neonatal intensive care unit," said Hannah Wort. "A nurse said, 'whenever we touch her she opens her eyes and likes to keep tabs on what's going on'."
"My partner and I both looked at each other and just said, 'Tabitha!'"
The now happy and healthy two-year-old shares a name with a biblical disciple who rose from the dead, said Mrs Wort, from Caterham, Surrey.
"This is massively relevant as well, as we were told that she was not going to survive and had to be resuscitated a few times," she said. "It all just ties in perfectly. Definitely the right name for her."
Do we judge people by their name?
---
"We named our first daughter Hazel as my husband and I both have hazel eyes and she is a bit of both of us," said Kate Kreke, who is originally from Chicago but lives in Kingsbridge in South Devon.
"I panicked when I found out I was pregnant with another girl as we had used up our girl name... so it took a few days to name Poppy.
"She was born near the 99th anniversary of the start of WWI and there were poppies everywhere and she has this lovely red hair - it seemed to fit.
"I thought I was being original again like Hazel's name but it turned out to be the 14th most popular name of the year. I blame the war."
---
"My dad said he was reading his Bible one day and he came across this name and for some unknown reason he just loved it," said Hezron Ottey, a staff nurse at the Royal Shrewsbury Hospital in Shropshire.
"I've been looking up the meaning. Some say it is to do with people who are excited by change and adventure, who enjoy freedom, who are optimistic and energetic. That's me."
Mr Ottey says he is yet to meet another Hezron. His 11-year-old daughter is called Keanna as he wanted to choose something unusual.
---
"In secondary school having an old fashioned name was very uncool," said Mabel Barclay, a 23-year-old student from Devon, who lives in Lancashire.
"I stuck out like a sore thumb in a comprehensive school of more than 2,000 students all called Sarah or Emma, when I just wanted to fit in.
"Due to the dog on Blue Peter being called Mabel and Auntie Mabel on Come Outside, I was mocked.
"Some people still ask if I like knitting today and some laugh when they meet me first time, expecting an old lady.
"People from the older generations often comment on it because they have relatives with the name. It's now a great conversation starter and I get to hear lots of lovely stories about people's families.
"I think the name suits me more now because I've become a little traditional with my interests as I've matured. It turns out I do enjoy wool crafts. Whether that's because I'm conforming to the stereotype or not, I don't know."
---
"The challenge is to find names starting with the same characters that you like," said Christopher Matthews. "We have Oskar Jakub, Oliwier John, Oktavio Jacek and Oxli Jan.
"I'm Welsh and my wife is Polish and we decided to try and choose names which worked in both cultures.
"For the spellings, we tried to use Polish letters in places, so the W instead of a V in Oliwier, and Oxli instead of Oxley.
"We had a few in mind before the birth and then saw which suited once we met them for the first time," he said.
---
Psyche Hudson said she was named after the princess of Greek mythology who was so beautiful that the goddess Venus became jealous.
"It originated from my grandmother on my mother's side who was fond of the classics.
"So it's a bit of a conversation opener, an ice-breaker when you meet new people.
"Growing up it does make you stand out a little bit and as you get older I think it gives you more confidence."
Mrs Hudson, from Telford in Shropshire, called her children Connaire Nathaniel and Trystan Joel Tobias.
"I was intending for them to have something a bit different. I wasn't trying to saddle them with a name they would have problems with later in life," she said.
---
"My name was chosen by my grandmother after opening the Koran and pointing at random," said Sulaiman Durrani, a British-Pakistani living in London.
"I quite like my name as people tend to associate it with Suleiman the Magnificent," Mr Durrani said of the longest-reigning sultans of the Ottoman Empire.
"People tell me my name is regal, however in most cases I end up going by a contracted version Sul, or Sully.
"However, I do enjoy having a name that is not overly common. I think names can make people stand out and, despite the sort of teasing I went through at school because of it, I wouldn't ever change it or trade it in."
---
"In my family the names were always chosen after someone that we knew was successful and happy, we looked for a pattern, not one-time cases," said Aleksandra Laszczyk-Mendez.
"My name was chosen because all the people, mostly male, starting from Alexander the Great, that my father heard of or knew, were always well-educated, had great careers and a good family life.
"I am happy to confirm that I love my name and I can agree with his theory 100% - all Aleksandras that I know are smart and successful. I'm proud to have such a beautiful name.
"I liked my name that much, that I gave it to my daughter as the second name."
---
This story was inspired by anecdotes sent in by readers of Olivia replaces Amelia as top girl's name and Do we judge people by their name?