Home Office delays: 'I've yet to meet my second child'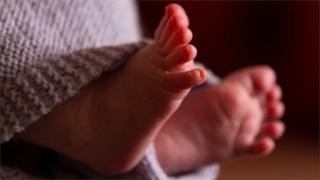 IT contractor Farooq Shaik says he is yet to meet his second son due to Home Office delays in processing his residency application.
His pregnant wife left their home in Leeds to see family in India a year ago and he expected to join her shortly after, but a decision on his application was still pending.
He began the process 12 months ago after living and working in the UK for 10 years but said he was eventually turned down over a tax discrepancy. He is now appealing.
"They rejected it because they say my income isn't genuine even though I have paid my taxes for the past 10 years and have proof which I've sent to them," he said.
"I'm yet to see my family in India because I can't travel as my visa was in process and now it's been rejected, I'm going through the judicial process.
"Now I can't get work without a valid visa so I am living off savings."
He said he could not travel to India for fear he won't be allowed back in the country, as his working visa has expired, nor can his wife come back into the country because she is dependant on his visa.
The government said complex cases take "longer to process".