Home Office delays: 'We are living in a virtual prison'
A couple say delays in their residency applications are preventing them from moving out of their cramped flat where they have found rat droppings in their baby's cot.
Roofi and Aamir, who did not want to give their surname, said they are desperate to move now they have 10-month-old Hammad.
They applied for indefinite leave to remain in May 2016.
The trained biochemist says she cannot work in her required field because she has currently has no documents proving her right to work.
"I have a PhD in biochemistry but I cannot even apply for a cleaner job because I do not have a passport with me," Roofi said.
'An outsider'
They also want to take Hammad to see relatives in Kashmir but are unable to.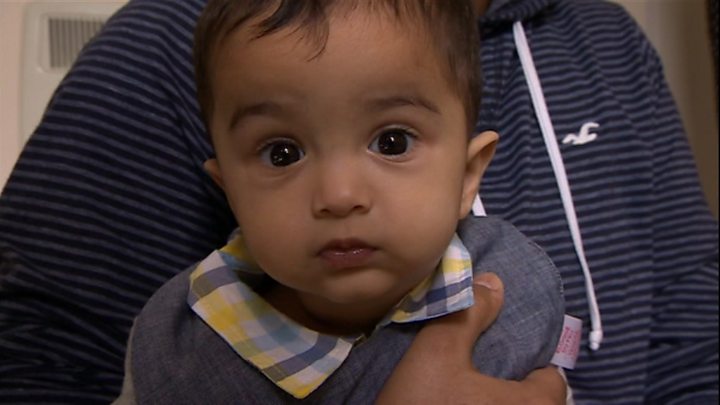 Roofi said: "We cannot move house, even though we have found rat droppings in our son's cot, because we don't have the documents to prove we have a right to be here and no landlord will take us on without them.
"We are stateless people with no rights."
The couple say they are part of a WhatsApp group of 250 people who have been affected by similar delays and they know of another group with 200 members.
They say the Home Office sent a letter to Aamir's employer in error saying he no longer had a right to work here.
He said: "It was a shock as I've been living in this country for 10 years now and all of a sudden I felt like an outsider.
"I could see people were giving me funny looks as if I was a criminal.
"My employer had to write to the Home Office to check and it did come back that I had work rights but I went through a lot of distress when I got that letter."
Bristol West MP Thangam Debbonaire chairs the All-Party Parliamentary Group (APPG) on refugees.
She said that among her constituents she is seeing an increased number of immigration applications delayed by the Home Office because they are considered complex.
She said: "When a case is considered complex it can take many months for a decision to be made.
"Although I understand that the Home Office have rules as to why a case is considered complex, they do not share this with the applicant.
"Because passports are held by the Home Office while a decision is made, families cannot travel and in some cases are unable to continue with their normal life.
"This can lead to enormous stress and anxiety for them."