Police rated 'inadequate' over crime recording failures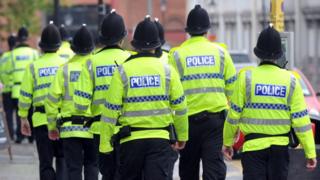 Seven out of 14 police forces have been dubbed "inadequate" for failing to record hundreds of thousands of crimes reported to them.
Just three forces were rated "good" by HM Inspectorate of Constabulary and Fire & Rescue Services (HMICFRS).
Inspectors said the failure rate was a "serious concern" and would result in crimes not being investigated properly.
Police claimed many incidents were recorded but were not "classified correctly".
The 14 forces inspected since August 2016 failed to record about 219,900 crimes a year, the inspection reports show.
The forces dubbed inadequate failed to record between one in seven and one in four crimes reported to them.
Those rated good - Wiltshire, Staffordshire and Sussex - failed to record between 5% and 9% of crimes.
Another four forces - Cambridgeshire, Avon and Somerset, Northumbria and North Wales - have been told they require improvement after failing to record between 7% and 12% of crimes.
In 2014 HM Inspectorate of Constabulary, as it then was, found one in five crimes reported to police were not being recorded by officers.
As a response it created "crime data integrity" reports following approval by the then Home Secretary Theresa May.
'Serious concern'
HM Inspector Matt Parr said: "Our inspections into crime recording show that there is still a considerable variation in how forces record crimes.
"If a crime is not recorded correctly it is unlikely to be investigated properly and it can have a direct effect on the prosecution of the perpetrator, who may go on to commit further crimes.
"Inexcusably, it denies victims the proper service they are entitled to.
"Our methodology for these inspections has been developed with police leaders and the fact that some of the 14 forces inspected so far have achieved a good result shows that methodology is sound.
"That half of inspected forces have been found to be inadequate is of serious concern and means the public in those areas are not getting the service they deserve. "
Mark Castle, chief executive of charity Victim Support said: "Our biggest concern in the inaccuracy of reporting crimes is that this could lead to victims being denied access to support.
"News like this will undermine public confidence in the criminal justice system and could deter people coming forward to report crimes in the future."
West Midlands Police, the second largest force in England and Wales, was found to have not recorded an estimated 38,800 crimes a year.
Its deputy chief constable disputed the figure and said: "A significant number of these incidents were recorded on our systems but just not classified correctly.
"This report focuses on our technical compliance with the National Crime Recording System and, as such, is about administration and the interaction between different computer systems used to record crime."
Leicestershire Police was also found to have failed to record reports from "victims of crimes of a sexual nature, and of violence".
The force acknowledged "there are areas that we need to improve upon" and said it was taking steps to address "administrative shortfalls."
Leicestershire Police and Crime Commissioner Lord Bach said the figures showed the impact of funding cuts.
"There are only so many financial efficiencies you can make before they become counter-productive and cracks begin to show," he said.
"I've discussed what needs to be done to improve matters with the chief constable and am reassured that HMICFRS recognises the steps being taken to address these recording issues in the future."
Sorry, your browser cannot display this content