Jurassic Coast open-top bus tours axed over 'verbal abuse'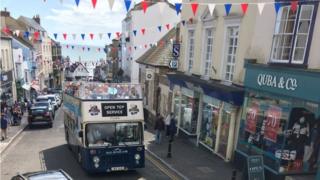 An open-top bus service has been axed because of "hostility and tirades" from residents, its operator says.
Drivers of the Jurassic Mule service, on the Devon and Dorset coast, have been verbally abused and a bus depot entrance was "deliberately blocked".
The Mendip Mule Motorbus service runs through Beer, Colyton and Seaton in Devon, and on to Lyme Regis and Charmouth in Dorset.
The operator said buses will be withdrawn from service later.
It has been running since 2015 and employs 25 part-time staff.
Issues over parking had arisen in Seaton and cars had been badly parked, intentionally, across Colyton bus depot's entrance, owner Derek Gawn said.
"I do realise that 99% of people do support us, but I can no longer cope with the 1%," said Mr Gawn.
'Shouted at'
He said the company used a bus park in Seaton, provided by East Devon District Council for use by buses and coaches on a pay-and-display basis.
"It isn't for the bus drivers to be shouted at by residents who don't welcome the facility," Mr Gawn continued.
"[And it's] not a particularly good welcome for the much-needed tourists bringing their spending to the town."
East Devon District Council said it was a matter for Seaton Town Council, which has not responded to a BBC request for comment.
"We have also experienced people deliberately parking their cars badly on the approach to our depot at Colyton Station in an attempt to make access difficult," Mr Gawn added.
Some people have taken to social media in support of the service.
On Facebook, Clare Dare said: "I think by moving next to a bus park there is a pretty good indication that there may possibly be a bus or 2 in there at some point!!!"
Becky Perry added: "Such a shame my little boys loved their adventure on the open top bus this summer!"