Great Exhibition of the North: Lennon piano and Sharman space suit on show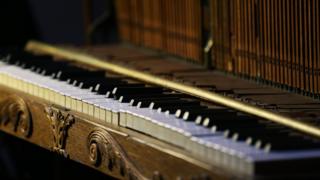 John Lennon's piano and the space suit of Britain's first astronaut Helen Sharman will be part of the Great Exhibition of the North in Newcastle.
Next year's summer-long series of cultural and science events aims to boost creativity across the north.
Announcing the exhibition, Culture Secretary Karen Bradley also revealed the 2018 Great North Run would form part of the finale.
A range of venues and open areas across Newcastle and Gateshead will be used.
The exhibition, which received a £5m grant from the government, starts on 22 June and ends with the Great North Run half marathon on 9 September.
Organisers expect it to attract an extra 1.2 million visitors to Newcastle and Gateshead and bring a £184m boost to the North East economy.
The Sage Gateshead will commission an animated, musical adventure called "Seven Bridges", developed by composer Ed Carter and children's television script-writer Katie Simmons.
Set along the River Tyne to Dunston staithes, the film will be presented live with music from the Royal Northern Sinfonia and introduce children to the architectural and engineering landmarks of the region.
Ms Bradley said she hoped the exhibition would "inspire a new generation of people" in the north of England.
Sheffield-born Ms Sharman, who was the first woman to visit the Mir Space Station in 1991, said: "I hope that the story of a young person from Sheffield becoming the first Briton in space will inspire young visitors to believe that they too can achieve something completely unexpected."
'Iconic objects'
Martin King, of The Beatles Story, added: "John Lennon's favourite piano from his New York years featured on many of his solo works and, poignantly, was the last instrument he ever played.
"We hope visitors will look upon it and think about the four lads from Liverpool who are still, 50 years on, considered to be the world's greatest ever band."
Sir Gary Verity, chair of the board for the Great Exhibition of the North, said: "We're telling the story of the north through its people, music, art and inventions.
"Never before have pieces such as Helen Sharman's space suit and John Lennon's piano been on display together in one venue.
"They'll be joined by many more iconic objects from across the north. We'll also be celebrating the north of England's strengths in digital, health and innovation, and how northern inventions continue to shape the world we live in."