British drivers freed after three months in Swiss jail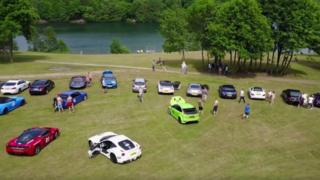 Three Britons who were held in Switzerland for "high-risk driving" have been released after three months in custody.
They were taking part in the Cannon Run driving tour when they were arrested on the A4 motorway, in June.
The men received suspended sentences of between 13 and 14 months and were allowed home earlier this week.
James Cannon, tour organiser and friend of the trio, said the men and the cars were picked up at the weekend.
Julian Wilson, 40, from Nottinghamshire, David Bentley, 49, from Shropshire, and Adrian Harrold, 45, from Wolverhampton, were driving three Nissan GT-Rs during the trip from Maidstone to Monaco when they were arrested near Zurich on 4 June.
Prosecutors suggested to the Swiss media, at the time, that the men were being held for taking part in a street race, an offence punishable by up to four years in prison.
Mr Cannon had denied this and said they were held for nothing more than "minor driving offences".
However, they have been found guilty of "high-risk driving" at 177.5 kmph (110 mph) in heavy traffic, creating a risk of a collision leading to injuries or deaths.
The public prosecutor's office said the men had remained in prison throughout the "time consuming" investigation while the vehicles' data was read and the accuracy assessed.
A bid to impound the cars failed as they were not owned by the defendants.
Mr Bentley's daughter was forced to postpone her wedding as he could not be there to walk her down the aisle and he also missed his son's prom. Two of the men have spent their birthdays in prison.
Cannon Run confirmed on Facebook that all three men had been released and that a team of close friends had picked them up and brought the cars back to the UK.
They also thanked people who donated money towards helping them return.