West Midlands Police 'failing to record crime reports'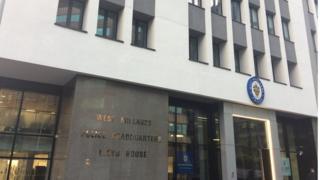 Thousands of reported crimes are not being recorded by West Midlands Police, a watchdog has said.
HM Inspectorate of Constabulary and Fire & Rescue Services (HMICFRS) said five out of six reported offences were recorded but 38,800 each year were not.
The force said it would improve its recording but challenged key parts of the assessment.
"Vast improvement" was also needed at Leicestershire Police with about 1 in 4 crimes currently going unrecorded.
Violent crime
Unrecorded crimes included sexual offences, domestic abuse and rape, the report on the West Midlands force said.
It also highlighted the recording of violent crime as a particular cause of concern. Its recording rate is 77.9%.
An unrecorded crime is classed as one that is reported to the police but not recorded as an offence.
HM Inspector of Constabulary Wendy Williams said it meant victims could potentially be at more risk of harm, without the required support.
The watchdog said the force's processes had improved since its last inspection in 2014, but rated it as inadequate for effectiveness at recording reported crime.
---
Four forces rated inadequate
Seven out of 43 forces in England and Wales have had inspection reports published for their "crime data integrity" since June 2017.
Of those, four were branded inadequate overall and two were told they required improvement.
Just one, Wiltshire, received an overall rating of good from HMICFRS.
---
Rapid improvements
West Midlands Police Deputy Chief Constable Louisa Rolfe said the force broadly accepted the data underpinning the report but disputed the 38,000 figure.
"A significant number of these incidents were recorded on our systems but just not classified correctly," she said.
"This report focuses on our technical compliance with the National Crime Recording System and, as such, is about administration and the interaction between different computer systems used to record crime."
West Midlands Police and Crime Commissioner David Jamieson said he had asked for rapid improvements to be made.
Leicestershire Police was also rated as inadequate with an estimated 21,200 crimes not being recorded each year, including reports from "victims of crimes of a sexual nature, and of violence".
The force said it noted the report and the inspectorate's conclusions "which are consistent with half of the forces it has inspected to date".
It added: "We acknowledge there are areas that we need to improve upon and are taking steps to address these administrative shortfalls."