Racist and Islamophobic graffiti house owners receive 'apology'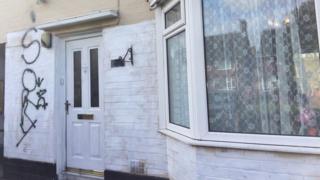 "Sorry" has been daubed over a house owned by Hindus after Islamophobic graffiti was painted over.
The apology was sprayed in black paint on a whitewashed wall on the front of the property in Liverpool on 28 August.
The previous day it was covered with racist and Islamophobic graffiti and several windows were broken, police investigating the hate crime said.
The owners are Hindus of Sri Lankan heritage rather than Pakistani Muslims referenced in the abusive messages.
The graffiti on the property in Stapleton Avenue, Speke, contained references to both Pakistani people and Islam.
The owners are due to move in at the end of September following the completion of renovation work.
Det Sgt Phil Atkinson said: "The victims in this case have been supported... Our community policing officers will be giving the area close attention in the coming days and weeks.
"I would like to urge anyone out there who may have been a victim of hate crime to get in contact, so we can take action."