Devon and Cornwall and Dorset police forces outline merger plan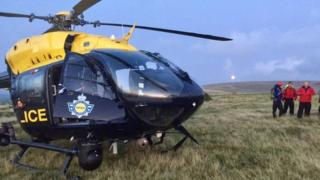 Two chief constables have outlined plans to merge their police forces after two years of closer working.
The bosses of Devon and Cornwall and Dorset see it "as the only way forward" amid "significant funding challenges".
Approval for the plan is required from the government, which said it expected a "robust" business case.
If it is backed it would be the first merger of English constabularies since the current 43-force structure was established.
Uniting the Devon and Cornwall force which has about 3,000 officers with Dorset, which has about 1,200, would create the fifth biggest force in England.
Shaun Sawyer, Devon and Cornwall's chief, said it could mean "millions" perhaps "tens of millions" being saved.
More on this story and others from Devon and Cornwall
A "strategic alliance" between the forces, which started in 2015, is on track to save £12m by 2018 say the forces.
Mr Sawyer and Dorset's chief Debbie Simpson said: "We now see this as a timely opportunity to progress this alliance further, including a potential aim to merge our resources and create a more resilient police force."
Mr Sawyer told BBC News as part of the merger there would be one police and crime commissioner, one chief constable, one deputy chief constable, one human resources director, one command and control system and one crime recording system.
He said having separate systems "does not make sense" and the force was "struggling to afford" operations such as "high cost" serious and organised crime and anti-terrorism units.
"We can't pretend we can keep on doing this on our own," he said.
What do the forces already share?
Deputy chief constables
Administration
Information technology
Human resources
Police helicopters
Drone unit
Roads policing
Crime prevention
Releasing money by merging gave the forces a "better chance" to protect numbers of neighbourhood officers and PCSOs, he said.
He and Ms Simpson hoped a merger would be in place by 2020, when the next police and crime commissioner elections are due to take place.
Christchurch MP Christopher Chope said he was "extremely sceptical".
Merger 'ridiculous'
"Why do we need to have one police force from Christchurch to Land's End - how is that going to work, it's ridiculous," he said.
"I'm all in favour of police forces co-operating and collaborating and getting best value, but there is no need for the democratic accountability to be reduced, which is the inevitable consequence."
But Dorset West MP Oliver Letwin, said: "The way forward on policing is more efficiency and this is an example of getting more efficiency and the tax payer needs to get the bet possible police force for the money."
Nick Hurd, minister for policing and the fire service, said that "while the government does not believe compulsory mergers are the way forward", it would "look at proposals from any forces that wish to voluntarily merge with each other".
He said the government expected a "robust business case" and proposals would have to show a "clear benefit to the public and where it has sufficient community consent".
PC Tony Tester, chairman of the Dorset Police Federation, said pressures on front line officers is the "greatest I have ever known" and he would welcome release of money to support those officers.