Operation Sanctuary: Newcastle sex groomers handed jail terms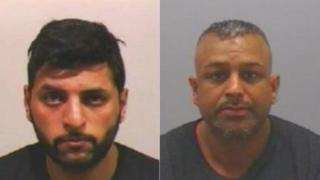 Two men who plied young women with drink and drugs and forced them to have sex have been jailed.
They were convicted as part of the Operation Sanctuary investigation into a grooming gang that sexually abused vulnerable girls in Newcastle.
Jahangir Zaman, 45, of Hadrian Road, was sentenced to 29 years for rape, sexual exploitation and drugs offences.
Mohammed Azram, 35, of Croydon Road, was handed 12 and a half years for sexual exploitation and drugs offences.
Read more about the sentencing and the day's other news here.
A network of 17 men and one woman were found guilty after two years of trials, with eight men convicted of conspiracy to incite prostitution.
During the investigation Northumbria Police paid a child rapist more than £10,000 to act as an informant.
Four of the gang have already been jailed and sentencing of the others is expected to last until Friday.
At the sentencing hearing Newcastle Crown Court was told victims' lives had been "turned upside down".
In a statement read out in court one said the gang members thought they were "superior to women, and girls do not have the same rights as men".
Another said her abusers made her "feel like a piece of meat".
John Elvidge QC, prosecuting, said Jahangir Zaman gave girls lines of the drug M-Cat and demanded oral sex if they wanted more.
When Zaman was interviewed by police he denied the offences, saying he was married with daughters the same age as the complainants, the court heard.
Zaman was also caught in a separate police operation to target the heroin trade.
'Horrifying crime'
Mr Elvidge told the court Mohammed Azram, who married in Pakistan and was privately educated in the UK, played a "leading role" in the conspiracy.
The children's charity the NSPCC said the pair had committed "horrific, calculated crimes which will have had devastating effects on vulnerable girls".
"Often going unseen, child sexual exploitation is a horrifying crime which will have lifelong effects on those who are subjected to it," a spokesperson said.
Mr Elvidge said the victims who gave evidence were white British and the defendants were "all of Asian extraction" and mostly British-born.
However, the authorities decided their crimes were not racially motivated but, instead, driven by the vulnerability and availability of their victims, he said.